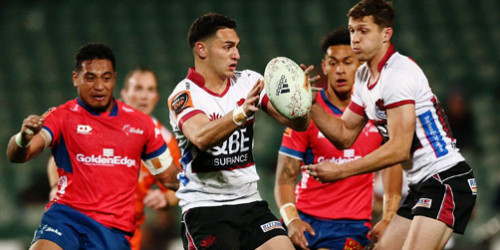 Their Under-20 coach Noel McNamara has returned to his home base in Ireland after a stint as defence coach with North Harbour in New Zealand's Mitre 10 Cup competition.
A connection between Ireland coaches Joe Schmidt and David Nucifora, and North Harbour general manager David Gibson, who had been coached by both of them, created the opportunity for McNamara.
He told The Irish Times, "For us as a family it was a great adventure, for me professionally it was a wonderful opportunity to go over and coach in that competition."
He struck up a rapport with North Harbour coach Tom Coventry and arrived just before the start of the competition in which he was placed as defence coach.
He was first struck by the flow through a typical week for a New Zealand side. There was teaching and learning early in the week with checks on clarity later.
"The players' ownership increases as the week goes on. You meet with the core defence group, present the week to them, review the previous game and prep for the upcoming threats the following weekend. Those players go back and meet the rest of the team and they present to each unit," he said.
It was a slightly different approach to what he was familiar with in Ireland.
Taking on the defence coach role had been exciting.
"For me it was about trying to create a culture around our defence. I certainly got a buy-in [from the players].
"We are lucky up here in that we have one of the best defence coaches in the world in Andy Farrell and Stuart Lancaster is a brilliant defence coach as well. I tried to implement some of the principles, some of the mindset around defence. As a group they wanted to learn," he said.
McNamara said his telescoped time with the side meant he might have tried to bring in too much too soon, however it had been about trying to develop ingrained habits so they took over in pressure situations.
"There is a limited amount of time on the pitch. Yes you can do it in training but so much more happens around individual conversations, one-on-ones, those core groups. I firmly believe that when you are under the most pressure you will become your habits."
Time spent with mental skills guru Dave Hadfield had also proved insightful, he said.
"From a rugby perspective it was great; the coaching, the previewing, the reviewing. Their philosophy centred on, 'don't tell me what they can't do, tell me what they can do and then tell me about what you are going to do about what they can't do'. I was quick to recognise what guys weren't able to do and that was reframed by a head coach saying, 'well what are you going to do about it'.
McNamara's return luggage was a little heavier with notebooks full of ideas to take into his preparations for the Ireland Under-20s Six Nations campaign.