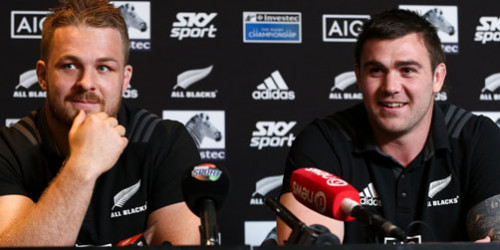 In his 57 cap career All Blacks flanker Sam Cane has played the South African six times and nothing had changed in the intensity of those games.
---
QUICK TAP: REBECCA MAHONEY SET TO MAKE NZ RUGBY HISTORY
---
While the 57-0 win in Albany last year may be on the minds of fans, the players are thinking more about their follow-up Test in Cape Town where the All Blacks won by only one point 25-24.
"That was a heck of a tough Test match," Cane said. "They physically took it to us and to be fair it took some of our younger guys to come on and really open the game up and take that opportunity and we only just snuck home. And it was only a few months ago they took it to England, so they know how to play rugby.
"We expect the physical confrontation. As a forward pack it's a big challenge for us, if we don't get it right and if we don't start dominating collisions early, it will be a really tough day. Yes, we've had a couple of performances we're happy with but this is a big challenge for us," he said.
Flanker Liam Squire said South African coach Rassie Erasmus' comments about his job being on the line might fire up his side but for the All Blacks it was about focusing on what they needed to do.
It was a case of being up for the physical challenge the Springboks would present and Squire said you went to dark places playing against the Africans but it was an exciting prospect.
Cane said: "You expect them to run hard, and direct, you know that's coming, but it's another thing stopping that sometimes and if you don't get that right and they get in behind the gain-line then they can start bringing an off-load game."
Squire said he had seen fellow blindside flanker Shannon Frizell develop through his professional career with Tasman and the Highlanders and it had been awesome to see him got out and show his ability in the All Blacks' jersey against Argentina.
"It creates that competitiveness in the 6 jersey which is only healthy for probably him and I so it is a challenge that is exciting for both of us or anyone that's in that loose forward trio," he said.
Squire said Frizell had grown in the tighter play and cleanouts while in the middle of the field he was a lot more physical while his ability out wide in space was obvious.
It's always a massive test against the Springboks and the team can't wait to play in front of a HUGE crowd in Wellington this weekend.
Don't miss out seeing the #AllBlacks in New Zealand for the last time in 2018. Limited tickets are still available ?? https://t.co/WTcp2Q9Jqo pic.twitter.com/9S8jxBac0l— All Blacks (@AllBlacks) September 11, 2018