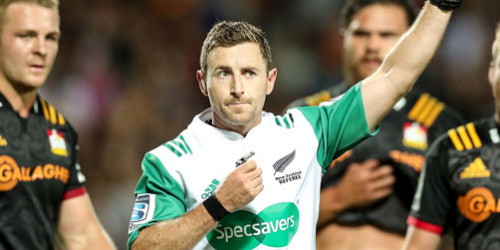 Forty-five Tests are to be played during that window and those involved will take part in a World Rugby camp in London.
The chair of the World Rugby match officials selection committee, Anthony Buchanan said, "This November selection provides another opportunity to assess performance in a high-intensity team camp environment that is not dissimilar to a Rugby World Cup which will further inform us as to who is in the frame for RWC 2019."
Brendon Pickerill will referee the Japan Test against a World XV in Osaka on October 26. Mike Fraser will be his assistant while Aaron Paterson will be the TMO.
Pickerill will then be an assistant referee for England's November 3 Test with South Africa.
On November 10, Glen Jackson will be in charge of Italy's Test with Georgia in Florence. On the same day Ben Skeen will be TMO of the Scotland Test against Fiji.
A week later Ben O'Keefe will referee Wales' Test with Australia with Brendon Pickerill his assistant.
On November 17, Paul Williams will referee England's Test with Japan at Twickenham while Ben O'Keefe will run the touchline for Scotland's Test with South Africa, with Ben Skeen as TMO.
Jackson will referee the France v Argentina Test in Lille on November 17.
On November 24, Williams will referee Scotland's Test with Argentina while on the same day Jackson will be first assistant for the England v Australia Test at Twickenham. Ben O'Keefe will referee Ireland's Test with the United States in Dublin.
When Australia and the All Blacks meet for the third Test of the Bledisloe Cup series in Japan on October 27 Frenchman Romain Poite will referee the game.
The referee for Japan's November 3 Test against the All Blacks will be Matthew Carley of England, while another England referee, Karl Dickson will be in charge of the Maori All Blacks game in Chicago against the United States on the same day.
For New Zealand's Test against England on November 10 Jerome Garces will be in control while Wayne Barnes will referee Ireland's Test with the All Blacks on November 17.
The Maori All Blacks Test against Chile in Santiago on November 17 will be controlled by Argentine referee Pablo Deluca.
And on November 24, the referee for the All Blacks Test against Italy will be Andrew Brace of Ireland.