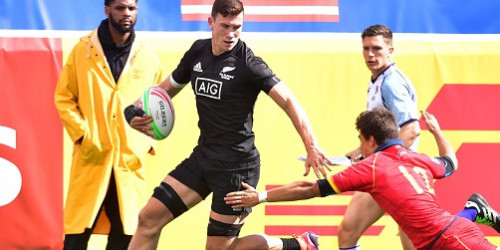 New Zealand won 19-14, having to draw deeply on its reserves of resilience to overcome a nine-point, 14-5 deficit against their Pacific rivals. Tries in the space of three minutes to the prolific co-captain Sione Molia and veteran Kurt Baker saw New Zealand grab the lead in the second spell. But the contest was far from over and it needed a titanic defensive effort, led by the likes of Baker, Scott Gregory and Trael Joass, to subdue several waves of Fijian attack as the clock wound down.

---
QUICK TAP: SUPER RUGBY REVIEW-ROUND THREE
---
In the early exchanges, Molia scored after a patient build-up that started with a quick tap by Regan Ware. The irrepressible Jerry Tuwai then struck twice in as many minutes, his step and bolt slicing up the New Zealand defence.
Molia pulled the margin back with a try as he darted from a ruck. Baker gave New Zealand its second lead of the clash, running a gap from a short Sam Dickson ball for the five-point lead. New Zealand never saw the ball after that, but showed that sevens can be won with accurate and telling defence.
Earlier in the day, New Zealand completed a spotless Pool A record, doing enough to beat Spain 19-7.
Joe Ravouvou slipped his marker and showed his pace for the opening try before Vilimoni Koroi scored by placing the ball at the foot of the goalposts after an intercept. Dickson completed the scoring, slick passing from a turnover creating space for him.
New Zealand has now won all five of its Cup quarter-finals this season, but will need to be on its game to head joint series leader USA, which was in superb form to defeat South Africa 29-10 in its quarter-final. South Africa's erratic recent form was highlighted with a 5-5 draw with Chile yesterday.

FT | Solid defence right til the end and the #AllBlacks7s advance to the Cup semifinals!#USA7s pic.twitter.com/kRpf36vBFK— All Blacks Sevens (@AllBlacks7s) March 3, 2019