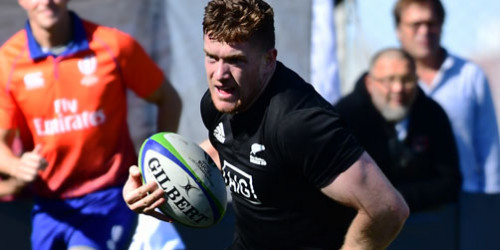 Coach Craig Philpott said the Scots had shown a strong lineout drive against South Africa in their opening game.
---
MATCH PREVIEW: NEW ZEALAND U20 vs SCOTLAND U20
---
"We'll be continuing to perfect our technique in defending those.
"They [also] like to use the ball, they like to play so it should be an exciting game on turf. It will be fast. We've come from a game on grass, and they've already had a game on turf so they will be used to that and we'll need to adjust," he said.
Philpott said the all-weather surface ensured the game would be quicker, the ball bounced differently. The demands on the body were also harder and they would be taking precautions in relation to taping. There had seemed to be more instances of cramping among other teams who played on that surface but it wasn't clear if that was a result of running on the turf.
Philpott said he was happy with the side's opening game against Georgia.
"We knew it was going to be a real battle up front, particularly for our forwards and a test for our ability to scrum against one of the better scrums in the competition and go against a pretty strong lineout maul.
"We feel pretty confident we got some good learnings out of that ready to take into Scotland," he said.
Team captain Kianu Kereru Symes is on the bench for the game with captaincy in the hands of flanker Kaylum Boshier, a former New Zealand junior cricket captain.
"Kaylum is one of our vice-captains and with Kianu on the bench for this game it is a great opportunity for Bosh to step up. He's a very calm leader, he thinks before he speaks and he doesn't say a lot and people like that you tend to listen to a bit more so he's certainly got the ear of his team," he said.

?? PREVIEW | Can the #NZU20s make it two from two when they take on Scotland at the #WorldRugbyU20s?

pic.twitter.com/sOOc3eUPsN— All Blacks (@AllBlacks) June 7, 2019
Scott Gregory, the New Zealand Sevens representative, had rejoined the team and will play at fullback.
"He's very excited, it's in his nature," Philpott said.
"His personality is a pretty bubbly one and he's really keen to get out there and it will be great to see him play at fullback. He appeared on the wing for us in the Oceania Championship so it is a great opportunity for him to add some value for us at fullback.
The adjustment required of him should not be too hard as he had been with the side on the Gold Coast before heading away for the Sevens tournaments in for a week and he had settled back and it hadn't proved too much of a transition.
With Gregory and Chiefs wing Etene Nanai-Seturo in the rearguard, there was genuine x-factor and Philpott said Nanai-Seturo was looking forward to playing on a fast surface.
WATCH: Tune into Spark Sport for LIVE coverage of NZ U20 vs Scotland U20 from 6.30am Sunday.

Kohan Herbert scoring like a winger! ????‍??#WorldRugbyU20s pic.twitter.com/QMXqZal4K3— All Blacks (@AllBlacks) June 4, 2019