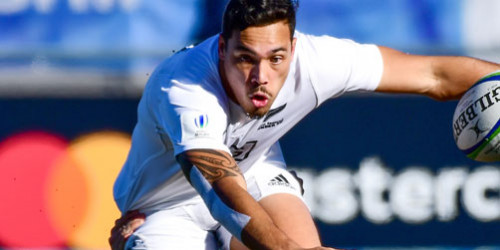 While their senior brothers, the All Blacks, have enjoyed a dominance over the Springboks across the last several years it is different at Under-20s level where South Africa has put five wins over New Zealand with the Kiwi side last winning in 2010.
---
QUICK TAP: PREVIEW: NZ U20S V SOUTH AFRICA U20S
---
Coach Craig Philpott said there was great incentive for the side to improve on the record against them.
"With Georgia and Scotland we got a real tune-up up front and it was good for us to really test our ability there. We were happy with how we came through that.
"South Africa will bring us more in that space but their point of difference will be their speed and agility out wide.
"They've got very fast backs, [who are] very keen to counter attack and to strike. They're very physical in the collisions so that's going to bring some challenges for us and we're looking forward to it," he said.
Should the South Africans continue their recent dominance over New Zealand, the goal would be for the New Zealanders to qualify for the playoffs as the best of the non-qualifiers. That situation is helped by the fact they will know from the way other games have gone before they play just what is required. But the key aim was to win and leave those other factors out of the equation.

Kohan Herbert scoring like a winger! ????‍??#WorldRugbyU20s pic.twitter.com/QMXqZal4K3— All Blacks (@AllBlacks) June 4, 2019
"First and foremost though this game is one we want to win and want to win well to send a message to the tournament. So for those guys in our team who were involved in the playoff for third and fourth last year they're really keen to get rid of that stone from under the blanket," he said.
"We've planned our selections through the first three games pretty deliberately and while you have to adjust every now and then for the odd injury, we've been able to keep pretty much to our plan around getting a group who are going to play this game tomorrow who didn't necessarily play a lot of minutes against Scotland. So we're coming in with a group of guys who, with four day turnarounds, the fresher you can get them the better. That's been a focus for us," he said.
Philpott said he had been pleased with the way the side had been able to utilise the ball on attack.
"I've been really satisfied with our attack in terms of we're a team that is scoring a lot of tries, the most in the competition. [I'm] Really pleased with our lineout attack and defence so we want to keep growing in that space.
"We probably let through some tries against Scotland that were more around individual communication than necessarily one-on-one tackle execution so we've done a little work on ironing those systems out and we should see an improvement in there tomorrow," he said.
Tamaiti Williams was the only player not considered for the game due to injury. He took a knock to his shoulder against Scotland but they are hopeful he will have recovered in time for game four at the weekend.
?? SIGNED | Great news coming out of @NZRugby this morning as All Blacks big man Brodie Retallick extends his contract.

FULL STORY ?? https://t.co/RzBGQXUCUQ pic.twitter.com/SPclxxCvTG— All Blacks (@AllBlacks) June 11, 2019