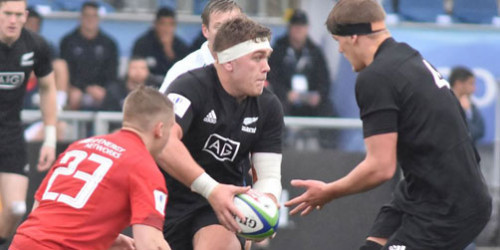 30am on Sunday (NZT).
Whatever the outcome it will be New Zealand's lowest finish at the tournament.
Coach Craig Philpott said it had been a near-run thing and the players were as disappointed as anyone over not finishing higher.
"We're all very disappointed in the results, but we're also acutely aware that we were only two points away from playing in the top four," he said.
They conceded a late penalty goal chance which South Africa converted to knock them out of the top four as they missed out on a bonus point which would have seen them as the best pool finisher, and then in their semifinal they conceded a late penalty goal to Wales in losing 8-7.
"We know we're not far off; the biggest issue for us has been our skill execution and I really think that's been the let-down for the players. They know they've let themselves down in that space," Philpott said.
"Our focus for this last game is if we can nail our skill execution we know we are a very good team and we want to show people that," he said.
For many of the players who have enjoyed successful careers to this point with schools, clubs and provinces, it was the first setbacks they had experienced at a higher level.
Philpott said that was one of the benefits of the Under-20s programme.
"It is what this programme is all about. This is the first time these players get to play against other countries who play a different style to us and Australia. So we're playing against teams like Wales, for example. They didn't want to have the ball, they were quite happy for us to have the ball and they would just try and force us into errors.
"And they really didn't do that, we forced ourselves into them. It's great learning but at the end of the day the guys here can understand that a big part of playing Test rugby is understanding the context of the game and knowing when to control the momentum, when to kick versus when to try to run the ball," he said.
There were some great lessons out of the championship and the players would be better for it.
Having looked over all four of Ireland's games, Philpott said they would best be described as a cross between Wales and Scotland.
"They have the best kicking percentage in the competition in terms of goalkicking and they kick the ball a lot so that's leaning towards Wales but they're also quite happy to use the ball as well so they'll play a bit more like Scotland and try and use width. We're expecting a bit of both.
They had also demonstrated the Irish rugby characteristic of determined defence.
"Our defensive record has been very good so it will be a very good battle," he said.
Six players were not considered for the game due to injury and the suspension of Samipeni Finau, who was ruled out when his yellow card against Wales was upgraded to a red card. Three players have been flown from New Zealand to join the squad: Rob Cobb, Chay Fihaki and James Thompson.
Keanu Kereru Symes (neck injury), Devan Flanders, Lalomilo Lalomilo (concussion), New Zealand Sevens representative Scott Gregory has a heel injury and has returned to New Zealand while George Dyer has a torn ligament in a toe and will require surgery and will be out for four to six months.
"We've still picked a very strong team and we still want to go out and win this Test match," he said.
Philpott wasn't surprised that Australia made the final, especially having felt the full force of their side's ability when losing 0-24 in the Oceania tournament final. They had balanced their campaign well, and while they had some injury issues they had still won games at critical times and it would be a great final.
France had stepped up against South Africa in their semifinal and showed they were peaking at the right time, Philpott said.