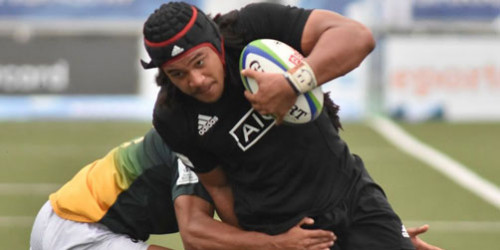 Coach Craig Philpott said the side had recovered from the pool loss to South Africa.
"They were really disappointed and we spent the next day with a very thorough review and yesterday we took a day out from rugby and had a good clear day which we haven't been able to do and had some fun together and recharged the batteries and we've just finished a really good training today.
"Our concern was the way we started the game. The first 15-20 minutes when we lost three or four of our first five lineouts so we were a little bit untidy in that space and we allowed South Africa to get some momentum and play some territory and gave them some possession.
"We didn't start the game well and we talked about that at halftime about what we needed to do to fight our way back into the game and in the second half it was 14-3 until the final penalty so we were able to do that but couldn't quite finish the job."
There had been no serious injuries from what was a physical contest.
"Wales like to kick the ball a lot so we can expect to get a fair bit of ball put on top of our back three. They've got a very strong lineout drive and they've scored a number of tries in their games through that part of their play so we've a rehearsal around that stuff and they're a team who will try and get off the line and have a crack at us so we want to make sure we're using the ball wisely."
The goal remaining was to win the game and they had picked a team to do the job against Wales.
"We've got some guys, particularly in the case of someone like Lalomilo Lalomilo who put his hand up when he came on the other day and he gets an opportunity to start in this one and then a young guy like Tamaiti Williams who is a year young in this programme gets his first start at tighthead so we expect him to bring plenty of energy and excitement," he said.
Philpott said the side had embraced all the learning opportunities that had been open to them this season.
"We've got some guys who are a year young who will benefit from this experience and come back next year and likewise we've got some guys who will be ready to step into Mitre 10 and hopefully Super Rugby in the next year or two based on the learnings they've had out of this campaign, so that's been really pleasing.
Philpott said the recent trend of continued improvement by all sides had been seen again in Argentina. There hadn't been any blowouts this year.
"You've got a group playing off for fifth place that has England, Ireland, New Zealand and Wales. That could easily be a top four and then when you look at the group that are playing off for ninth to 12th it is such a tough place to be with Scotland and Georgia, who've really improved, Italy who are there or thereabouts and who are hosting the tournament next year so they're safe, so it's really tough. There's no easy games, that's for sure," he said.