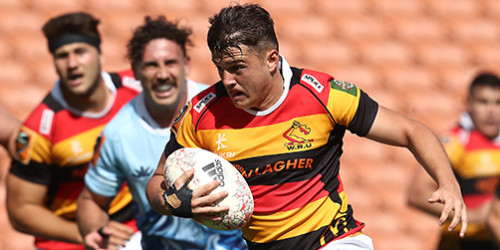 Last seen on these shores in 2017 when they beat Kanto Universities in Hamilton, the NZU made a successful unbeaten tour of Japan last year.
On Saturday April 6 (2.30pm kickoff), they will host Kansai Universities at University Oval in a full first-class fixture seeking to not just win but uphold the best traditions of university rugby, a legacy that stretches back to famous victories over the 1956 Springboks and 1977 Lions.

---
QUICK TAP: HURRICANES COME AT GOOD TIME FOR CRUSADERS
---
Coaches Brendon Timmins and Simon Forrest will have their last hurrahs after five years at the helm of this unheralded side that has produced two All Blacks – Dillon Hunt and Brett Cameron – in their time and a host of Super Rugby and Mitre 10 Cup talent.
NZU defeated Kansai 47-33 last year, and Timmins is expecting a very competitive opponent.
"We'll find a very similar beast. Last year we had a very good first half and led something like 40-7. I warned the guys that Kansai were playing at home, were very proud and that they would come out quite different. They did," he says.
"They base a lot of their game around the strength of their scrummaging. It's very much a Kansai focus.
"In Japanese university rugby, they are pretty much training fulltime on top of their studies. They are strong, very fit, technically very astute and their game sense is getting better."
So NZU will need to attack Kansai at their strengths and execute the game plan. That will not be straightforward as NZU, which assembles on Sunday in Dunedin, will have no warm-up match, whereas Kansai faces Otago University on Tuesday. All four Otago NZU players will be released for that match, despite the injury risk.
"It would be wrong of us to deny Otago University the chance to play Kansai with a strong team," explains Timmins.
One might have thought the NZU v Kansai fixture would have made a decent curtainraiser to the Friday night (April 5) Highlanders v Hurricanes clash under the roof at Forsyth Barr Stadium. Maybe so, but that time slot was already taken by the Highlanders Bravehearts, who will be playing Japan A, making for a strong Japanese rugby presence in Dunedin next week. Both NZU and Kansai will be along as spectators.
The Saturday after-match will be followed by an official dinner to mark the long-standing NZU-Japanese rugby relationship and the 150 years celebration of the University of Otago.

STORY | "Nothing will be bigger than our first game in Japan against New Zealand" - @Springboks set sights on the #AllBlacks at #RWC2019.

READ ????https://t.co/u7mexBf5dm pic.twitter.com/tXUDduXwYI— All Blacks (@AllBlacks) March 25, 2019
From the original NZU squad selection, hooker Trent Lawn of Canterbury (UC) has dropped out due to a dislocated wrist. Lawn was a late injury replacement for the 2018 tour, so this is a most unlucky break for him. A replacement had yet to be added at the time of writing.
"The team will always move forward, but I could pick up how much this game meant to (Trent)," says Timmins.
Some 10 are returning from the 2018 squad, and the backline, in particular, is full of versatile and promising talent.
"We're very fortunate that we've got most of the backline back, so that's got Forry (Simon Forrest) pretty excited. There are some quality players amongst that," says Timmins.
There are indeed. The versatile Tyler Campbell, who starred for Waikato in the 2018 Mitre 10 Cup and is training with the Chiefs, can suit up in the outside backs or at pivot. He has been released by the Chiefs, but could be called back for injury, though that franchise does have a bye next week, which will help.
Both outside back Caleb Makene and five-eighths Rameka Poihipi appeared for the 2018 Crusaders against the French Barbarians. Vice-captain Hamish Northcott is an NZU stalwart who has played Super Rugby for the Blues. Outside back Te Rangatira Waitokia of Massey is a 2016 Heartland Championship player of the year.
The side will be led by No 8 Kirk Tufuga, who skippers Massey in Manawatu club rugby. He was a loan player to Wairarapa-Bush for the 2018 Heartland Championship and leads by example with his thoughtful, accurate play.
Several other players have seen game time at Mitre 10 Cup level, including Otago prop Angus Williams, Canterbury hooker Nic Souchon, and Otago wing Taylor Haugh.
The acid will go on a green tight five to combat the vaunted Kansai scrum.
Timmins has several goals for this team, other than securing the victory and promoting themselves for higher honours, but he is adamant NZU must continue to have a presence in a congested calendar.
"To see these players make it to the next level does help justify keeping this team available and relevant," he says.
Now he just has to hope his men get through club rugby unscathed on Saturday before linking up in Dunedin the next day.
2019 NZ Universities squad (one to be added):
Tyler Campbell (Waikato), Luke Donaldson (Lincoln), Kalin Felise (Marist, North Harbour), Frazer Harrison (Auckland), Taylor Haugh (Otago), Joshua Hill (Otago), Doug Juszczyk (Massey), Sione Kilipati-Lea (Otago), Maile Koloto (Auckland), Caleb Makene (Lincoln), Hauwai McGahan (Marist, North Harbour), Connor McLeod (Otago), Hamish Northcott (Massey, vc), Stanley Paese (Waikato), Rameka Poihipi (Lincoln), Codi Rogers (Waikato), Antonio Shalfoon (Lincoln), Nic Souchon (Lincoln), George Stratton (Lincoln), Kirk Tufuga (Massey, c), Te Rangitira Waitokia (Massey), Angus Williams (Otago)

???? ROOKIE WATCH | Who were the best performing rookies in round six? We take a look and select three of the best.

READ ???? https://t.co/SSN0Oqi6kJ pic.twitter.com/k4vTCjelXR— Super Rugby (@SuperRugbyNZ) March 25, 2019