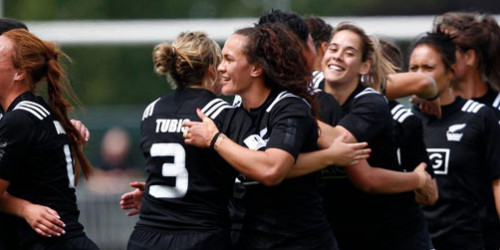 worldrugby.org/womens-sevens-series/stage/1629" target="_blank">HSBC Women's Sevens Series in Dubai next week has been named.
The team is:
Ruby Tui - Canterbury
Hazel Tubic - Counties Manukau
Jordon Webber - Waikato
Sarah Goss (Captain) - Manawatu
Gayle Broughton - Taranaki
Tyla Nathan-Wong - Auckland
Kelly Brazier - Bay of Plenty
Katarina Whata-Simpkins - Wellington
Portia Woodman - Auckland
Niall Williams* - Auckland
Michaela Blyde - Taranaki
Shiray Tane - Waikato
*new cap
Several players were unavailable through injury: Charlotte Scanlan (shoulder), Kayla McAlister (foot), Stacey Waaka (shoulder), Lesley Ketu (ankle), Alexis Tapsell (neck), Selica Winiata (back).
Head Coach Sean Horan said the first team of the new season was young which augured well for the future.
"We have a few injuries which have resulted in some changes, but going into Dubai we're really excited. We have the mainstay of Tyla, Kelly, Sarah and Portia and some up and coming players like Gayle Broughton and Hazel Tubic who have been going exceptionally well and some new blood so it's a great mix to take into the first tournament of the new season."
There is one new cap in the side with the selection of Niall Williams who comes from a very talented family. Her brother is All Black Sonny Bill Williams.
"She's an amazing athlete similar to her brother. She's worked very hard over the last nine months to really make this happen. She's a very powerful and skilful player, coming from a touch background so that's good. Physically she's tough so we're excited. We're not expecting fireworks straight away, but she has real potential and we see a big future for her."
While the team secured their third straight Women's Sevens Series title last season and qualified for the Olympics by winning three tournaments, they dipped out in the last two tournaments.
"We were happy, but got a bit ahead of ourselves. Other teams were hungry for it and we did drop off. Looking forward we know Australia and Canada are big threats. USA and France did extremely well and we have the old foes of England and Fiji so there's plenty of competition out there. We're excited about that and we'll embrace the challenge."
"We have a strong foundation, but we will have to work and experiment. We want to win the World Series and we're confident in our plans and processes."
Dubai Sevens schedule
Thursday 3 December
1:00pm (10pm NZT) v Russia
4:00pm (1am Friday NZT) v Brazil
7:00pm (4am Friday NZT) v France
Friday 4 December – Finals Day
World Rugby HSBC Women's Sevens Series tournaments
Watch Dubai Sevens on SKY Sport
The final two hours of the women's tournament will be screened live on the Rugby Channel, 1.00am to 3.00am on Saturday, 5 December.