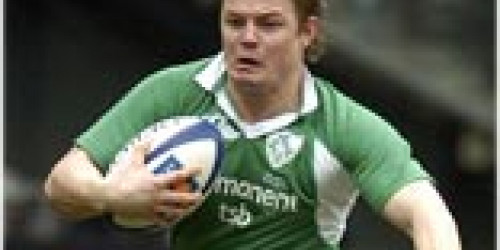 The outstanding centre who proved the man of the first Test in Hamilton when Ireland got within 10 minutes of a famous victory, said with the All Blacks guaranteed to have benefited from the outing, it was going to be a much tougher prospect.

But, by "making everything a little more crisp, defensively being as strong, if not stronger, and taking our opportunities," Ireland could do it, he said.

"Looking back at the video we had more opportunities to score more points and we didn't take them. You have to do that against the All Blacks because they'll take their opportunities."

Everyone is talking about the second Test being tougher and O'Driscoll knows from his experience in New Zealand on a two-Test tour in 2002, just what can be expected.

"Again we played well in the first Test, one of those narrow defeats and we let ourselves down in the second Test.

"The All Blacks are certainly going to be better than they were at the weekend, history's shown that.

"But we like to think that we have something left in reserve as well. We don't want to be another one of those sides that goes well in the first Test, is narrowly beaten and then capitulates in the second Test," he said.

O'Driscoll said his desire for a first win over the 101-year rivals was no greater than everyone else in the side.

Ireland will look to unsettle New Zealand's target area, the breakdown, again in the match.


But he was wary that much will depend on referee Jonathan Kaplan's approach to that area.

"Dominance of the breakdown is very important, but it can vary from game to game, depending on who the referee is and what his take on the tackle situation is. You play to your knowledge of the referee.

"It might be different this weekend with a different referee. You might find both sides playing him differently," he said.

There was also a hint in his pre-game thinking that should the match be heading the way of the home team, an all-out assault plan may be unleashed. That is risk-taking and running the ball from everywhere, as Ireland has been wont to do on occasions in the past.

He said playing rugby off the cuff and running hard is sometimes an effective option.

If the Ireland didn't know what it was doing then there was no way the All Blacks were going to know, he said.