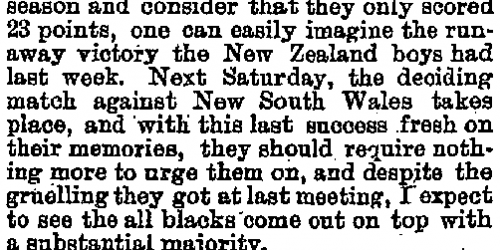 It was the custom in the formative rugby years of the 19th century to refer to teams in newspaper reports by their jersey colours: Auckland, for example, were frequently called "the Blue and Whites" and Wellington, "the Blacks." When the first British team toured New Zealand in 1888, their jerseys were red, white and blue hoops and they were referred to as "the Colours." (NZ Referee, May 18 1888, page 308).
---
QUICK TAP: LIONS BRAND MUST BE MAINTAINED
---
Black with a silver fern on the left breast of the jersey was first used by the New Zealand Natives team that toured New Zealand, Australia and the United Kingdom in 1888-89. Among their local opponents was Wellington, which switched to blue and white jerseys for the occasion, and in one newspaper report, the Natives were referred to as "the Blacks" because of the jersey colour. (NZ Times, July 16 1888, p3).
The Natives played in Australia on their way home and a weekly sports paper in Sydney, the Referee, had this to say the morning after they beat New South Wales (italics added): "When I say that NSW led by 9 points to love up to the first few minutes of the second spell, it can be imagined how the all blacks played up during the last term ..." (Sydney Referee, June 26 1889, page 6).
Wellington, because they played at the time in black jerseys and black knickerbockers, were also referred to as the All Blacks. Before a match against Auckland, a reporter wrote: "I think the all blacks should be pleased if they can obtain a draw against the blue and whites ..." (Evening Post, August 31 1889, page 3)

To celebrate #NZR125, we take a look at the legacy of one of the first #AllBlacks captains, Tom Ellison.

READ: https://t.co/Wk8TXZLEQU pic.twitter.com/qbqeFGAZI2— All Blacks (@AllBlacks) April 20, 2017