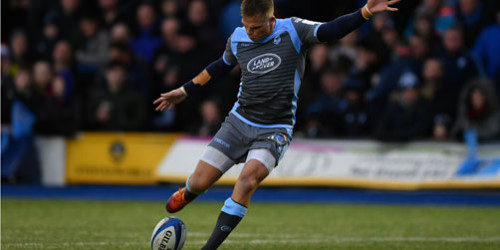 Teams have been fighting it out for places in next season's Champions Cup and first five-eighths Anscombe's Cardiff Blues side, which he is leaving to join the Ospreys next season, were playing the Ospreys in a vital game.
The transfer has caused some controversy in Wales, but Parkes, writing in his BBC.com column asked: "Can you imagine, though, if he's got a kick in the last minute to win it for the Blues and deny Ospreys a place in next season's Champions Cup? That would be brilliant!
"But in all seriousness, I'm sure he'll do all he can to make sure the Blues win."
Guess what happened?
In a controversial finish to the game, Anscombe, who had already scored a try and kicked two conversions and three penalty goals for the Blues, had a chance to kick a penalty goal when the sides were locked at 23-23 with only 11 minutes to play.
Referee Nigel Owens had awarded the penalty when Ospreys' Dan Evans knocked down a pass that should have seen Tomos Williams run in a try. Cardiff coach John Mulvihill felt the incident, for which Evans was yellow-carded, deserved a penalty try.
But in taking the kick, Anscombe missed and moments later Ospreys kicker Sam Davies had a chance, which he landed, and Ospreys took a 26-23 win.
As a result the Ospreys will meet Parkes' Scarlets to claim a Champions Cup place next season.
Parkes said of Anscombe's decision to change clubs, "We get on pretty well and I know it's been an extremely tough decision for him. He's done well for the Blues and Wales and you've just got to wish the guy luck.
"It's a decision he feels is best for him and his family. It's an exciting move for him as well," he said.
"Welsh rugby's a pretty small world, and 'Chicken' [Anscombe] has a couple of mates who've gone down to the Ospreys or Scarlets already, and he sees them all the time.
"Virtually everyone lives within an hour and a half of each other, so its' a very small place. Everyone gets on pretty well which is good," Parkes said.
Wales' World Cup training squad is being named on Tuesday.