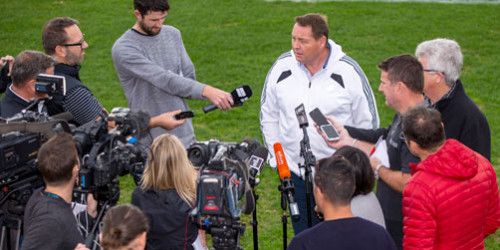 He said at the team's Foundation Day for North Island players at Papakura on Monday that the number of penalties was a concern, especially for the competition-leading Crusaders who had been on the receiving end over the last three weeks.
---
Hansen wasn't being critical of the penalties that were being awarded, but in the lack of consistency in their application.
He said: "A lot of the penalties are right, but they're not consistent on both sides.
The Lions team in South Africa had been awarded 48 penalties in three games while the opposition sides had only been awarded six. That would mean there wasn't a lot of consistency being applied.
"I don't know any team that's only given six penalties away in three games so I would say there's not enough consistency in what they're seeing.
"I'm not saying the penalties they are giving are not right, I'm saying they're obviously missing a few."

??? Sipi Tau vs the Haka!

Next time it will happen under the sun when the All Blacks meet Tonga in a day time clash in Hamilton in September. ????????

TICKETS ?? https://t.co/FRWgOHHoGB pic.twitter.com/ZaZhoRJoXT— All Blacks (@AllBlacks) May 16, 2019