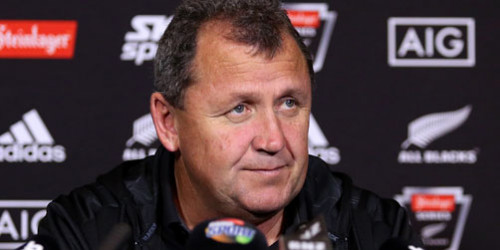 Reviewing the game had its effect and there had been a response not only from the players but also the coaches.
Foster said in Dunedin, "We weren't very satisfied with the result that we got and we had to look hard at ourselves about how we dealt with that game too. As a team we've had a good look at it.
"We're disappointed that we didn't back up one good scoreline with a quality performance which is what we were looking at. So clearly we didn't get a few things right."
But the response had been positive as was expected of All Blacks and it was a case of backing with a better performance on Saturday.
They would not be thinking in terms of a dead rubber with the series all sewn up. The expectation that the All Blacks would win was consistent while they were aware that the French had all the motivation ahead of them.

Black Ferns Captain Fiao'o Faamausili has chosen her #AllBlacks Starting XV for the third and final Test against France! Can you do better?

Pick yours before midnight on the 20th to be in to WIN tickets to the last Test.

PICK YOURS NOW! https://t.co/hQJBvQ5IcH#PickYourXV pic.twitter.com/HjkW156Iyr— All Blacks (@AllBlacks) June 19, 2018
"We're expecting a big push from them and this is an All Blacks-France Test and we've just got to treat it like that," he said.
Among the considerations ahead for the selectors will be their playing choice and one player, in the absence of Beauden Barrett, likely to feature at some stage would be first five-eighths Richie Mo'unga.
Foster said the Crusaders had done a good job preparing Mo'unga for top class rugby.
"The way they've managed him after they lost a lot of 10s [first five-eighths] after the World Cup, it was Toddy [Blackadder] at the time and he just backed him and filled him with confidence and said, 'you're the man to run our franchise'.
"So as a young man he got a lot of responsibility on him and we've watched him through the last couple of years, three years, where he's just grown and how he's done that and how he's managed that with that team.
"We've seen a lot of his growth off the park through the Crusaders and we've been impressed with it. His game management, therefore, has grown to the fact that he's fitted in here really, really well," he said.
June was always harder on newer players, he said, as they played well in Super Rugby and then had to come in and learn with a new team from scratch.

WATCH | Was there a better try for the All Blacks in the second Test against France than Joe Moody's runaway? Jeff Toomaga-Allen doesn't think so! ??

??? Limited tickets to the final Test of the #SteinlagerSeries in Dunedin available here: https://t.co/D3P787uaoq pic.twitter.com/6RvwGXvzY8— All Blacks (@AllBlacks) June 18, 2018