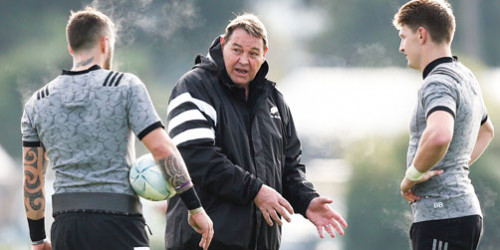 That has been the traditional common denominator in clashes between the two rivals but the choice to trial the dual playmakers concept with Mo'unga at first five-eighths and Barrett at fullback against a traditionally formidable opponent is evidence of how important the team management view the tactic.
Losing Damian McKenzie for the World Cup campaign provided the selectors with the chance to trial the Mo'unga-Barrett playmaking combination in the manner they started with McKenzie last season.
Hansen said with only four Tests before the Rugby World Cup it was time to trial the pair in the role.
"We've got a plan for a whole lot of things we want to do before the nitty-gritty business and we just felt Saturday's game is the right time to try that particular part of the plan," he said.
Hansen said to replace Barrett at first five-eighths there needed to be a quality substitute and Mo'unga had proven in the last two years that he was a world-class player in playing a key role for the Crusaders winning Super Rugby titles and also showing his skill at Test level.
"Both of them are world-class players," he said. "At some point you want all of your best players on the park."
With the usual intensity of the forward contest there would be pressure on the players left at home for the Argentine Test last week, props Joe Moody and Owen Franks, hooker Codie Taylor, lock Sam Whitelock, flanker Matt Todd and No.8 and captain Kieran Read, to quickly step into their roles.
"The issue they've got is they're coming into the All Blacks and they've only had a short preparation time. The one advantage they have is most of them have played together," he said.
"They've got combinations and that will be very, very helpful come Saturday. They've probably got another advantage too, as there is a lot more experience amongst them," he said.
Hansen said he expected more from them for those reasons and they would need to be better because the Springboks would be better.
Since last year's win in Wellington South Africa's self-belief had advanced.
"I think they've always been a good rugby side. Maybe because of some of the results over the years we've had with them, we've taken away a wee bit of their belief and frustrated them with come-from-behind victories. They just couldn't seem to get a win.
"To get one in our own backyard last year I think has given them a lot of confidence," he said.
And after the All Blacks turned the result around in Pretoria he didn't think that would have dented their confidence as they probably felt the All Blacks had been a bit lucky to get a last gasp win.
The selection of flanker Dalton Papalii on the bench was important should he be included in the World Cup squad.
"If we don't give him the big occasion to play in, (a) he won't have experienced it so it will be new and I don't want that to be the case and (b) we won't know if he can cope with it. So it's a win-win for both of us," he said.
South Africa had been forced to include Kwagga Smith as their openside flanker in lieu of injured captain Siya Kolisi. He was a great player over the ball, Hansen said, in the mould of players the Springboks had fielded over the years. He didn't think Smith's inclusion would change the way South Africa looked to play.
While he also had speed, something Hansen was familiar with after Smith's performance for the Barbarians in London, two years ago against the All Blacks, it would be a case of not giving him the opportunities to put that speed to use.
"He's a really good footballer, that's why he's in the South African side. You don't make the Springboks unless you're a good rugby player," he said.
And while pace was an asset it wasn't always the great attribute an openside flanker needed, a position where anticipation and ability to read the game well was also important.