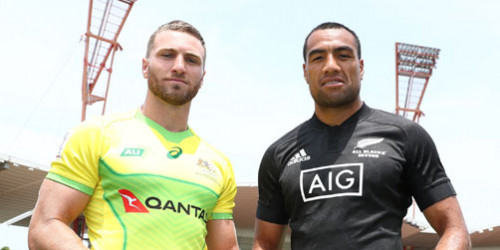 New Zealand has only won the Australian Sevens leg three times, and only once in Sydney in 2015-16. They finished third in 2016-17.
---
They go into the tournament in third place on the series ladder but will be without skipper Scott Curry who is out with an ankle injury and Dylan Collier who has a hamstring injury.
Sione Molia has been named co-captain with Tim Mikkelson and said nothing would be changing in the team dynamic as they continued their way through the series.
They would miss Curry's leadership and workrate as well as his skill sets on and off the field but the depth available to the side was encouraging.
That had been borne out in Dubai when the All Blacks Sevens won the first tournament of the 2018-19 series when the players who covered the injuries showed they could cope with the demands.
Coaches and management were working really hard to grow the depth within the team, he said.
Molia said the last time he had captaincy duties was in Paris at the end of the 2017-18 series and it had been both exciting and enjoyable.
Sydney had its own demands on the players. Molia said the atmosphere was memorable but the heat was always a challenge.
"It's almost like a home tournament as well with all the Kiwis coming out and cheering us on," he said.

Set those reminders for the #AllBlacks7s pool matches, kicking off this Saturday:

SATURDAY:
11.22am NZT v Wales ??????????????
4.50pm NZT v Spain ????
8.55pm NZT v Scotland ??????????????#Sydney7s pic.twitter.com/pLp3ulyTne— All Blacks Sevens (@AllBlacks7s) January 30, 2019
Molia said the lessons from their third place finish in Hamilton last weekend were, "Learning the critical details we needed to execute through the weekend as well as the opportunities we missed out on and I guess going back and looking at what we do really well and focusing on all those little things."
New Zealand's first game is against Wales at 11.22am (NZT) on Saturday. It plays Spain at 4.50pm and its last game is against Scotland at 8.55pm. The final will be played at 10.56pm on Sunday
Australia are the defending champions in Sydney but have had a disappointing year and are sitting sixth on the points table.
They have had injury concerns going into the tournament but captain Lewis Holland is confident Ben O'Donnell, who missed the Hamilton tournament after aggravating a knee injury he suffered in the Cape Town leg before Christmas.
"He'll be fine for this weekend and he's a big part of our team so he's resting up and recovering and he'll be ready to go," he said.
Another who could return is Jesse Parahi who also missed Hamilton due to a hip flexor injury.
"Jesse's a powerhouse. If we can get him out on the field this weekend no doubt he'll do some damage. He's not easy to take but for a big unit he's a bit of a twinkle toe as well, so he offers a great thing to the team," he said.
Australia are drawn with Argentina, South Africa and Tonga in their pool.
With Scott Curry ruled out of this weekend's #Sydney7s, we chat with Sione Molia who steps into the #AllBlacks7s co-captaincy role alongside Tim Mikkelson. pic.twitter.com/jiFZAqOhTv— All Blacks Sevens (@AllBlacks7s) January 30, 2019