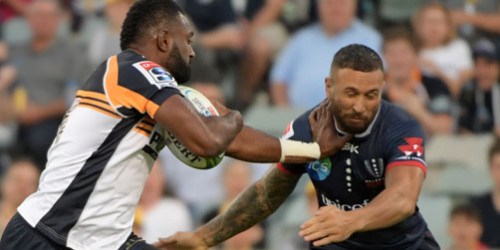 Not only do they have to face a Chiefs side who were pipped late in the game by the Highlanders in Hamilton but they are likely to have to do it without ace flanker David Pocock and wings Toni Pulu and Henry Speight.
Pocock faces time out of the game after suffering sixth minute concussion.
Brumbies coach Dan McKellar said Pocock failed his HIA, "So there's a concussion there and he's obviously had a concussion on [the] Spring tour as well so we'll manage him and deal with what's in the best interests of Dave," he said.
Pulu had what looked to be a serious cheekbone injury while Speight had a hip pointer.
The Rebels have time to ponder their success which was driven by returning five-eighths Quade Cooper. They have a second round bye and then host the Highlanders in Melbourne.
Rebels coach Dave Wessels said after the win: "I thought Quade was great.
"I think Quade, he's had a lot of pressure on him coming into this game to be fair, just showed what a world-class player he is because he didn't do anything that he made up on the spot, he played to a framework that he's helped create, that he believes in and I think he enjoyed himself out there.
"He's probably a once-in-a-generation player, he can do some things that you just [think] like, 'how did that happen?'
"I thought more than that he had a sense of the tempo of the game.
"He knew when to speed it up, when to slow it down. That's something that he'll get with experience. I think having a 10 who has a relationship with a nine in that way is going to be pretty valuable for us," he said.
McKellar said the Brumbies would be looking to sort out basic mistakes that hindered their performance ahead of the Chiefs next week.
"We want the boys to use their skill and back themselves but we've also got to understand there's moments where we look back and [ask] can we just maintain possession and keep the pressure on instead of throwing that 50/50 pass that isn't potentially on.
"But I thought there was some really good signs in the attack in patches, it was just that last pass probably hurt us, off the top of my head, probably three times," he said.