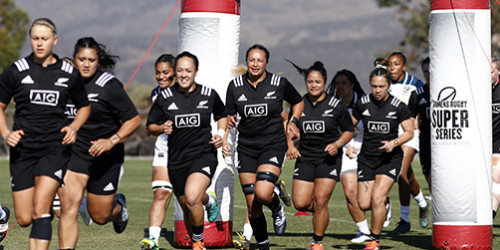 Match details: Black Ferns v France, Sunday 7 July, 9.15am (NZT), Chula Vista Elite Athlete Training Center, San Diego, USA
FORM
Despite not playing since last November, the Black Ferns will be very happy with their return so far at the Women's Super Series. In their first game they were impressive in bagging a bonus-point 35-20 win over Canada. In game two they were even better in shutting out hosts USA 33-0. France didn't play in the opening round but were outclassed 36-19 against Canada in the second round.
---
QUICK TAP: COCKSEDGE TO LEAD BLACK FERNS IN 50th TEST
---
KENDRA'S MILESTONE
Halfback Kendra Cocksedge will become just the second Black Fern in history to play 50 Tests when she runs out against France. To make the auspicious occasion even more special for Cocksedge, she has been handed the captaincy reins with usual skipper Les Elder suffering a minor injury. Coach Glenn Moore said Cocksedge is a key cog in the Black Ferns and very deserving of playing 50 caps. "Kendra directs the team around the field and she's been the best number nine in the world for a number of years now. She is relentless and very competative and she trains as hard as she plays."
LOOSE FORWARD RESHUFFLE
Coach Glenn Moore has been forced to reshuffle the loose forwards with regular skipper and openside flanker Les Elder ruled out. Wellington's Marcelle Parkes will start in Elder's seven jersey for her fourth Test while Pia Tapsell moves to six and the experienced Charlotte McMenamin comes in at No.8 for her 22nd Test.

Joanah Ngan-Woo | Black Fern #209
Kennedy Simon | Black Fern #210
Forne Burkin | Black Fern #211
Chelsea Alley | 20th Test

?????? pic.twitter.com/dxmfcspYO5— Black Ferns (@BlackFerns) July 4, 2019
FRENCH REVENGE
Memories of last November's 30-27 loss to France in Grenoble will loom large for the Black Ferns. On that day, New Zealand went down in a three-tries-to-four thriller to deny a fairytale finish to the careers of Fiao'o Faamausili and Linda Itunu. The Black Ferns will be eager to erase those memories with a victory in San Diego and remain unbeaten in 2019.
WATCH
If you are in New Zealand, tune into SKY Sport for live coverage of all matches (see schedule below). Fans outside of New Zealand can watch all matches through
Flo Rugby
.

BLACK FERNS SCHEDULE
Black Ferns v Canada – Sat 29 June – 11am NZT, Sky Sport 1 (WON 35-20)
Black Ferns v USA – Wed 3 July – 12.15pm NZT, Sky Sport 1 (WON 33-0)
Black Ferns v France – Sun 7 July – 9.15am NZT, Sky Sport 1
Black Ferns v England – Mon 15 July – 8am NZT, Sky Sport 1
TEAMS

Black Ferns:

1. Toka Natua 2. Te Kura Ngata-Aerengemate 3. Aleisha-Pearl Nelson 4. Eloise Blackwell (Vice captain, 39) 5. Charmaine Smith 6. Pia Tapsell 7. Marcelle Parkes 8. Charmaine McMenamin 9. Kendra Cocksedge (Captain) 10. Ruahei Demant 11. Ayesha Leti-I'iga 12. Kelly Brazier 13. Carla Hohepa 14. Renee Wickliffe 15. Selica Winiata (Vice captain)
Reserves: 16. Luka Connor 17. Phillipa Love 18. Leilani Perese 19. Karli Faneva 20. Kennedy Simon 21. Arihiana Marino-Tauhinu 22. Chelsea Alley 23. Alena Saili
France: Not available at time of publication
?? HIGHLIGHTS | The Black Ferns put on a clinical display against @USARugby in their Super Series match in San Diego, running in five tries to none to record a 33-0 victory.

MATCH REPORT ?? https://t.co/gtCXlEpeK3#NZLvUSA #SuperSeries2019 pic.twitter.com/MNdd2wl2JA— Black Ferns (@BlackFerns) July 3, 2019