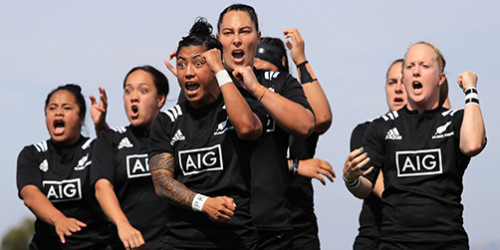 MATCH DETAILS: Black Ferns vs USA, Wednesday 3 July, 12.15pm NZT, Chula Vista Elite Athlete Training Center, San Diego
FIRST ROUND FORM
The Black Ferns started their Super Series campaign in a positive fashion with a 35-20 win over Canada on the weekend. It was the perfect way to start the tournament for the Black Ferns with the Canadians pushing them hard until left wing Ayesha Leti-l'iga crossed for a try in the 61st minute to put the game out of reach. USA would have been disappointed in their 38-5 loss to England. They came out strong with an early try to prop Hope Rogers but just couldn't match England's intensity and superior pace in conceding six tries in the thumping loss.
---
QUICK TAP: BLACK FERNS MAKE WINNING START IN SAN DIEGO
---
THREE NEW CAPS
After welcoming four debutants in the clash against Canada, the Black Ferns are set to welcome three more against USA. Wellington lock Joanah Ngan-Woo, Canterbury hooker Forne Burkin and Waikato flanker Kennedy Simon are all set to make their Test debuts from the reserves.
BONUS POINTS CRUCIAL
Because the Women's Super Series is played as a straight round robin format, bonus points and points differential will be crucial in helping to decide the winner. The Black Ferns will be happy to have picked up a four-try bonus point win over Canada and will need to repeat the dose against the USA. England are currently at the top of the standings due to their 38-5 win over USA but have a bye in the second round with France coming in for the first match of the tournament against Canada.
COACH'S WORD
Black Ferns coach Glenn Moore said his side is expecting a physical encounter against USA. "We watched the match between USA and England, and the Americans brought a lot of physicality and made some big hits so we need to be ready for that. We've put strategies in place to counter what we expect them to bring and are ready."
WATCH
If you are in New Zealand, tune into SKY Sport for live coverage of all matches (see schedule below). Fans outside of New Zealand can watch all matches through Flo Sports.

BLACK FERNS SCHEDULE
Black Ferns v Canada – Sat 29 June – 11am NZT, Sky Sport 1 (WON 35-20)
Black Ferns v USA – Wed 3 July – 12.15pm NZT, Sky Sport 1
Black Ferns v France – Sun 7 July – 9.15am NZT, Sky Sport 1
Black Ferns v England – Mon 15 July – 8am NZT, Sky Sport 1
TEAMS
Black Ferns: 1. Phillipa Love 2. Te Kura Ngata-Aerengamate 3. Aleisha-Pearl Nelson 4. Eloise Blackwell 5. Charmaine Smith 6. Charmaine McMenamin 7. Les Elder (Captain) 8. Pia Tapsell 9. Kendra Cocksedge (Vice captain) 10. Ruahei Demant 11. Ayesha Leti-I'iga 12. Chelsea Alley 13. Carla Hohepa 14. Natahlia Moors 15. Renee Wickliffe
Reserves: 16. Forne Burkin* 17. Toka Natua 18. Leilani Perese 19. Joanah Ngan-Woo* 20. Kennedy Simon* 21. Arihiana Marino-Tauhinu 22. Kelly Brazier 23. Theresa Fitzpatrick
USA: 1. Hope Rogers 2. Katy Augustyn 3. Nick James 4. Stacey Bridges 5. Alycia Washington 6. Elizabeth Cairns 7. Joyce Taufa 8. Kate Zackary (C) 9. Ashlee Byrge 10. Katana Howard 11. Kris Thomas 12. Alev Kelter 13. Amy Talei Bonte 14. Bulou Mataitoga 15. Bui Baravilala
Reserves: 16. Catherine Benson 17. Charli Jacoby 18. Joanna Kitlinski 19. Nicole Strasko 20. Kristine Sommer 21. Olivia Ortiz 22. Emily Henrich 23. Fane Haungatau
Good luck to @BlackFerns in action tomorrow at #SuperSeries2019 against @USARugby.

?? Watch on @skysportnz in New Zealand or stream on @FloRugby globally ???? https://t.co/AWnRFdPq91

pic.twitter.com/kmBmDrMV51— All Blacks (@AllBlacks) July 1, 2019