Well over half of last year's New Zealand Under 20 squad have already played Super Rugby.
The tournament features the five Super Rugby clubs and a New Zealand Barbarians Under-21 selection. It's played across three match days on the 22nd, 25th and 28th of May. We've got you covered with everything you need to know ahead of the much-anticipated tournament.
BLUES
Captain: Wallace Sititi
Coach: Steven Bates
Brief: With Auckland suffering longer Covid restrictions than the rest of the country, the Blues have had less of a representative examination than the other teams.
Two players in the team have been in the apprentice group training with the Blues this season. They are Northland lock Allan Craig and South African born flanker Chlayton Frans. Rory Woods, originally from Wellington, is a quality acquisition covering lock or loose forward. Che Clark is involved fulltime in the All Blacks Sevens programme, a menace on the side of the scrum.
There is plenty of excitement in the backline. Kelston Boys' Essendon Tuitupou is the son of former All Black Sam Tuitupou. Quinton Nichols is a similarly hard-running midfield back from Grammar Tec. Byron Smith from Nudgee College, Brisbane brings an educated kicking game.
One to Watch: The Blues will be led by No 8 Wallace Sititi, son of Semo Sititi, former Manu Samoa captain and well-known coach in Auckland. Wallace attended De La Salle College where he was Deputy Head Boy. His leadership credentials were further illustrated when he captained the Blues in one game at the 2021 tournament.
CHIEFS
Captain: Curtis Palmer
Coach: Chad Shepherd
Brief: The Chiefs were the only team to win all three matches in 2021 scoring an impressive 22 tries.
The essence of the tight five returns with props Josh Bartlett, Havila Molia, Hakaraia Richards-Cockhead, Mason Tupaea (brother of All Black Quinn Tupaea) and lock Curtis Palmer out of Tauranga Boys' College all back. Fellow lock Rowan Slater is the son of former All Black prop Gordon Slater.
In the loose, Bay of Plenty's Veveni Lasaqa is a bruiser and Malachai Wrampling-Alec arrived in New Zealand in 2018 via Brisbane State High School. He has played for St Paul's Collegiate, New Zealand Under 18 Maori and Te Awamutu Sports.
First-five Lucas Cashmore (nephew of former All Black Adrian Cashmore) and Counties Tevita Ofa are the only players returning in a vibrant, robust backline that features two sprightly halfbacks Adam Lennon and Te Aonui Wharawhara-Muriwai.
One to Watch: Taha Kerema is an incisive and mature first-five out of Hamilton Boys' High School. Last year he helped the First XV win their 14th Super 8 title since 2006 and has kicked on to become co-captain of the Te Awamutu Sports premier team.

HURRICANES
Captain: Riley Higgins
Coach: Darren Larsen
Brief: Eight players return from the 2021 team, including recent Hurricanes debutants Raymond Tuputupu (prop) and Riley Higgins (midfied back).
In addition to Tuputupu, College Sport Wellington Sportsman of the Year Siale Lauaki and Norths Bradley Crichton will form the basis of a highly skilful and bustling front row.
The Hurricanes are spoilt for choice in the loose forward department with Dominic Ropeti, Peter Lakai and Sione Halalilo all rampant for their respective clubs in the Swindale Shield. Cooper Flanders helped Hastings Boys' High School win the National Top Four in 2019. Tino Savea captained Lindisfarne College with distinction in 2021.
First-five Isaiah Armstrong-Ravula was expectational for Manawatū in matches against Wellington and Hawke's Bay in February and March. He will compete for the ten jersey with Harry Godfrey who can also cover fullback.
One to Watch: Riley Higgins became the youngest back to represent the Hurricanes aged 19 years and 240 days old in their 67-5 win over Fijian Dura on Sunday, May 8. The second-five or centre is a product of St Patrick's College, Silverstream where in his final season in the First XV in 2019 he scored 17 tries in 12 games and earned selection for the New Zealand Secondary Schools' team. Higgins has helped Petone flourish in Wellington Club Rugby scoring tries in seven consecutive appearances. He scored four tries in three games at last year's tournament. His older brother Kenian Higgns, also a midfield back, played seven matches for Hawkes Bay in the Bunnings NPC last year.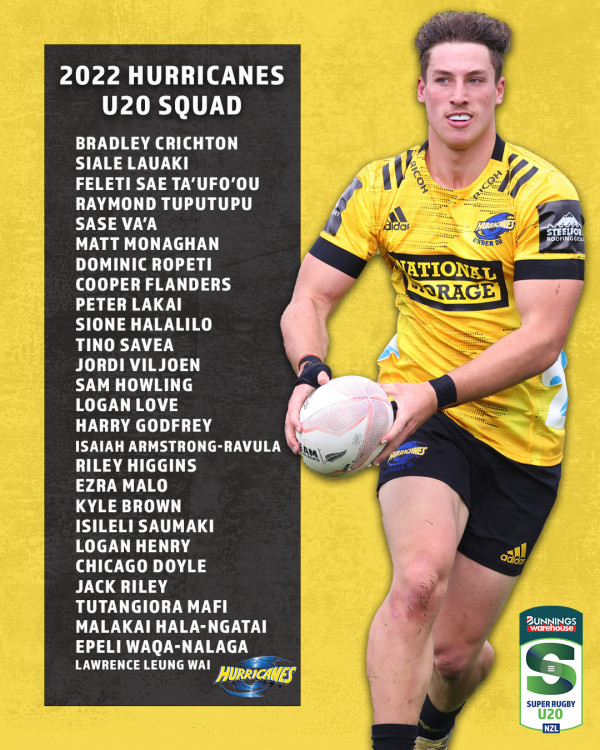 CRUSADERS
Captain: Jamie Hannah
Coach: Daniel Perrin
Brief: The pack has stability and skill with recent Crusaders debutant George Bell leading the charge from hooker partnered by returning prop Seb Calder. Lock Jamie Hannah captained the Barbarians last year and was a New Zealand Schools' pick in 2020 out of Christchurch Boys High School.
In 2021, Fletcher Anderson was awarded a University of Canterbury Haupatu Scholarship for Sport. The openside flanker from Christ's College is studying a Bachelor of Laws and is already captain of the UC premiers
Jone Rova in midfield and Tasman fullback Macca Springer will provide much of the spark out wide, each returning for another year.
The Crusaders beat the Hurricanes 50-45 in a warm-up game last Saturday.
One to Watch: Hooker George Bell is a product of John McGlashan College in Dunedin, one of the biggest improvers in First XV rugby the past handful of seasons. He's made a big impression since moving to Christchurch flourishing at the Lincoln club and making the Crusaders U20 team for the 2021 tournament. He scored a crucial try in a victory against the Blues and a gallant hat trick against the formidable Chiefs. On May 7 he became Crusader 265 when he debuted for the Super Rugby champions against the Force. He scored a try in the 53-15 win in Perth.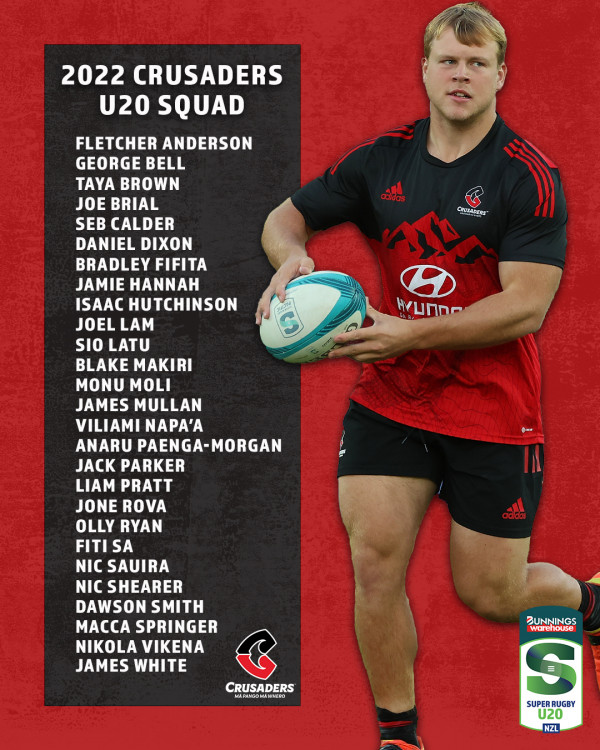 HIGHLANDERS
Captain: Noah Hotham
Coach: Ryan Bambry
Brief: Halfback Noah Hotham, whose sister Jazmin Hotham is in the Black Ferns Sevens, will spearhead the Highlanders charge. Hotham is a product of Hamilton Boys' High School but migrated south in 2021 and made two appearances for the Tasman Mako in the Bunnings NPC.
Hotham will be joined by vice-captain Fabian Holland who made his Highlanders debut this year. Holland stands 6 ft 8 and 118kg. He is of Dutch descent and was inspired to play rugby after he witnessed a New Zealand Sevens training session at his club, Castricumse. He studied and played at Christchurch Boys' High School in 2019 and hasn't looked back.
The Highlanders are a young team with only six players returning from last year and 13 players still being age eligible next year.
The forward pack will be their biggest strength with Holland (Otago) and flanker Hayden Michaels (Southland) having played Bunnings NPC. Props Rohan Wingham, Oscar Cowley-Andrea and lock/loosie Oliver Haig featured at last years' tournament.
Ajay Faleafaga and Finn Hurley were both selected for the New Zealand Secondary Schools.' They can cover first and second five respectively.
One to Watch: Cameron Millar was the leading points scorer at the tournament last year with 46 points in three games. A dead-eye goal kicker with tactical nouns the Otago Boys' High School product kicked a record equalling six penalties to help Taieri seal a 21-17 win over Green Island in the Dunedin premier club final at Forsyth Barr Stadium in 2021. Millar played four games for Otago in the Bunnings NPC.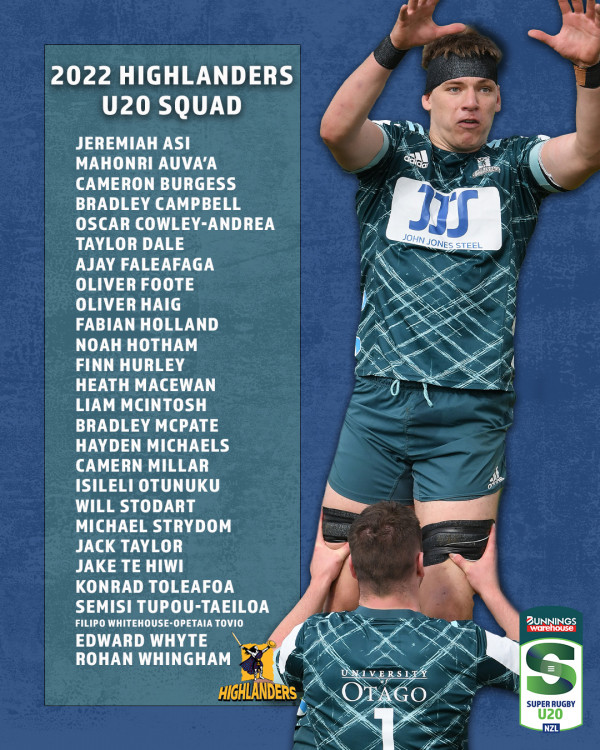 NEW ZEALAND BARBARIANS
Captain: Alfred Nonu
Coach: Steve Jackson
Brief: The Barbarians bring together players from nine different provinces so have enjoyed the least centralised training of the six teams.
The pick of the forwards might be Bryn Gordon, Nikora Broughton and George Methven. Gordon, out of Palmerston North Boys' High School, has converted from eight to a very handy hooker. Broughton played for the Chiefs in 2021 and is the son of former Māori All Black Norm Broughton who's related to three Black Ferns, Gayle, Jude and Flo. Methven helped Marist Albion win the Christchurch Metro senior championship and was a New Zealand Schools No 8.
First-Five Blair Murray won the Bronze Boot Award as the best player in the New Zealand Schools, Australia Schools test in 2018. Former Tangaroa College sports captain Alfred Nonu is rock solid in midfield and Joel Cobb played for Auckland last year. In 2019 Cobb was an MVP at a Red Bull Ignite Sevens event.
One to Watch: Tiaki Fabish is already a seasoned club player having appeared 32 times for Old Boys University in Wellington and being on the winning side on 26 occasions, including the 2020 Jubilee Cup final against Norths. A hard-working and athletic lock or loose forward, Fabish was a member of the 2018 Napier Boys' High School First XV who made the National Top Four final. He made his debut for Hawke's Bay against Manawatū in the Bunnings NPC last year. His father Robin Fabish is principal of Tamatea High School and played First XV rugby at Francis Douglas Memorial College in New Plymouth with former All Black John Mitchell.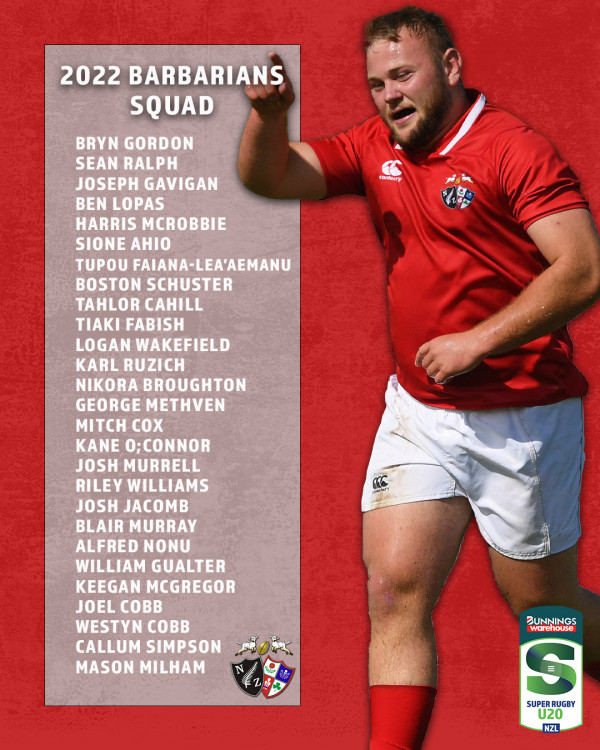 2021 DJ GRAHAM PLAYER OF THE TOURNAMENT
The 2021 DJ Graham player of the tournament was Highlanders loose forward Sean Withy. From a dairy farming background in Dipton he attended Southland Boys High School and was selected for the New Zealand Schools' in 2019. In the 2021 tournament he scored three tries in the Highlanders win over the Barbarians and was a force of nature in their surprise 25-23 upset of the Crusaders. He is studying a Bachelor of Science at Otago University. Withy made his senior debut for the Highlanders in their narrow 14-17 loss to the Crusaders in Christchurch in April.
The Bunnings Warehouse Super Rugby Under 20 Draw is:
Sunday 22 May: 11:00am Blues v Hurricanes; 1:00pm Barbarians v Highlanders; 3:00pm Chiefs v Crusaders
Wednesday 25 May: 11:00am Barbarians v Crusaders; 1:00pm Chiefs v Hurricanes; 3:00pm Blues v Highlanders
Saturday 28 May:11:00am Blues v Crusaders; 1:00pm Barbarians v Hurricanes; 3:00pm Chiefs v Highlanders
Referees:
Jackson Henshaw (Sth Canterbury)
Stu Catley (Hawkes bay)
Ben Woolerton (Waikato)
All games will be live on Sky Sport.