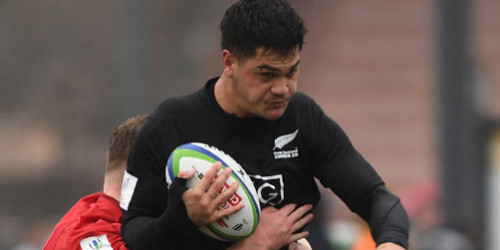 Match details: New Zealand under-20s v Ireland U-20s, Club Old Resian, Rosario 4am, (NZT)
Played: 7
Won: New Zealand 6, Ireland 1
Last time: New Zealand-Under 20s 69-3 Ireland, Kutaisi, Georgia, June 8, 2017
Watch: Live coverage will be broadcast on Spark Sport in New Zealand
FORM
New Zealand's tournament started with a 45-13 win over Georgia and then a 52-33 win over Scotland. However, they lost 17-25 to South Africa, a loss that denied them a top four place. In their quest to take at least fifth place they were beaten 7-8 by Wales. Ireland started the competition with a 42-26 win over England but then went down to tournament finalist Australia 17-45. In their final pool game they beat Italy 38-14. In their semi-final they went down to England 23-30.

FINAL CHANCE FOR NZ
Several changes have been made to the New Zealand Under-20s side as they look to make the best of a disappointing situation. However, coach Craig Philpott said the side felt they were not far away and the game was their last chance to show what they were capable of. The fine line between success and disappointment had been highlighted with their bonus point pool loss to South Africa while the late penalty conceded against Wales had left with their prospect of playing for seventh place. Coach Craig Philpott said, "The biggest issue for us has been our skill execution and I really think that's been the let-down for the players. They know they've let themselves down in that space. Our focus for this last game is if we can nail our skill execution we know we are a very good team and we want to show people that."

U20s Highlights: @WelshRugbyUnion beat New Zealand 8-7 in famous victory at the #WorldRugbyU20s Championship pic.twitter.com/0gpjtrzsmy— World Rugby (@WorldRugby) June 17, 2019

IRELAND HIT BY INJURIES
No matter the outcome of the game, the result will be the best result at the tournament for Ireland in three years. They have made seven changes, many also forced by injuries, to their side and one positional switch. Making their first appearances of the tournament are fullback Max O'Reilly and No.8 Brian Deeny. Making their 10th consecutive appearance for the side are centre Liam Turner and Jake Flannery, who has played more often at fullback and wing but who will be at first five-eighths. Appearing together for the side for the first time since winning the Six Nations Under-20s grand slam are the front row of Josh Wycherley, Dylan Tierney-Martin and Thomas Clarkson.

TEAMS:

New Zealand Under-20:

1.Oliver Norris, 2.Shilo Klein, 3.Fletcher Newell, 4.Cullen Grace, 5.Tupo Vaa'I, 6.Kaylum Boshier (captain), 7.Jeriah Mua, 8.Simon Parker, 9.Taufa Funaki, 10.Rivez Reihana, 11.Leicester Rainga'anuku, 12.Quinn Tupaea, 13.Billy Proctor, 14.Etene Nanai Seturo, 15.Cole Forbes.
Substitutes: 16.Kianu Kereru-Symes, 17.Robert Cobb, 18.Kaliopasi Uluilakepa, 19.Tamaiti Williams, 20.Taine Plumtree, 21.Chay Finaki, 22.James Thompson, 23.Kohan Herbert, 24.Leroy Carter, 25.Fergus Burke, 26.Dallas McLeod.

Ireland Under-20: 1.Josh Wycherley, 2.Dylan Tierney-Martin, 3.Thomas Clarkson, 4.Charlie Ryan, 5.Thomas Ahern, 6.Ryan Baird, 7.Ronan Watters, 8.Brian Deeny, 9.Craig Casey, 10.Jake Flannery, 11.Rob Russell, 12.Cormac Foley, 13.Liam Turner, 14.Angus Kernohan, 15.Max O'Reilly.
Substitutes: 16.Declan Adamson, 17.Michael Milne, 18.Charlie Ward, 19.John McKee, 20.Niall Murray, 21.Luke Clohessy, 22.Azur Allison, 23.Aaron O'Sullivan, 24.Colm Reilly, 25.Ben Healy, 26.Jonathan Wren, 27.David Ryan, 28.Aaron O'Sullivan.
????THE SEA OF RED IS COMING TO HAMILTON ????

??? Grab your tickets to see the All Blacks take on Tonga in their final match before #RWC2019 ???? https://t.co/t0RNW7YvYK pic.twitter.com/6uE2IdtBVj— All Blacks (@AllBlacks) June 21, 2019