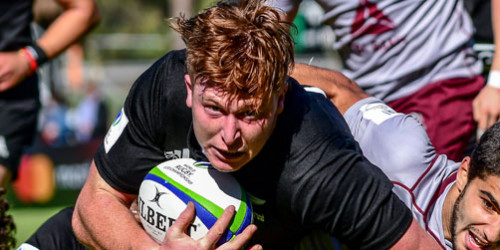 Match Details: New Zealand Under-20s v Scotland Under-20s, Racecourse Stadium, Rosario, 6.30am (NZT) Sunday, June 9.
Played: 3
Won: New Zealand 3, Scotland 0
Last time: New Zealand 42-20 Scotland AIA Arena, Georgia
FORM
New Zealand and Scotland have met three times previously at the Under-20 World tournament. The first occasion was in 2014 at Pukekohe when New Zealand won 54-7. They met again in 2015 at Parma in Italy where New Zealand won 68-10 and en route to winning the 2017 tournament in Georgia, New Zealand beat Scotland 42-20. In their opening game of the tournament New Zealand beat Georgia 45-13 while Scotland went down to South Africa 19-43.
---
QUICK TAP: NZU20 BRACE FOR BATTLE UPFRONT FROM SCOTLAND
---
RARE HONOUR FOR BOSHIER
Flanker Kaylum Boshier completes a remarkable youth double by being given the captaincy for the game. He also captained the New Zealand Under-19 cricket team at their World Cup. Coming into the side for his first game is fullback Scott Gregory, having joined the side after the completion of the HSBC World Sevens series. The only players retaining their places from the 45-12 win over Georgia are lock Taine Plumtree, wing Etene Nanai-Seturo and centre Quinn Tupaea.
SCOTLAND MAKE 12 CHANGES
Scotland have made 12 changes to their team that was beaten 19-43 by South Africa in their opening game. Scotland were competitive for three-quarters of the game and within three points of them, but three late tries were conceded. Coach Carl Hogg said: "We've obviously made a number of changes to the side ahead of tomorrow's match against New Zealand. It will be a real test for us, but the boys who've come in will be desperate to make an impact. Playing sides like New Zealand is what the World Rugby Under-20 Championship is all about and we'll go into the match-up with a real desire to perform and represent the jersey. Scottish history and sport is about upsetting the odds and we intend to try and do that this weekend."
?? PREVIEW | Can the #NZU20s make it two from two when they take on Scotland at the #WorldRugbyU20s?

pic.twitter.com/sOOc3eUPsN— All Blacks (@AllBlacks) June 7, 2019
THE SCOOP
New Zealand halfback Taufu Funaki made a big impact when taking the field against Georgia. The score was 19-13 but in the 30 minutes he was on the field the New Zealand scored four tries.
FAST FACT
Scotland's inside defence was well tested in their first game against South Africa while an inability to exploit space out wide in the face of South Africa's blitz defence hampered them. However, their strong set-piece and lineout drive were an issue for the South Africans.
WATCH
Tune into Spark Sport for LIVE coverage of NZ U20 vs Scotland U20 from 6.30am Sunday.
TEAMS:

New Zealand Under-20s:

1.George Dyer, 2.Shilo Klein, 3.Kaliopase Uluilakepa, 4.Taine Plumtree, 5.Tupou Vaa'I, 6.Kaylum Boshier (captain), 7.Jeriah Mua, 8.Simon Parker, 9.Taufa Funaki, 10.Ferg Burke, 11.Etene Nanai Seturo, 12.Quinn Tupaea, 13.Billy Proctor, 14.Lalomili Lalomilo, 15.Scott Gregory.
Substitutes: 16.Kianu Kereru Symes, 17.Ollie Norris, 18.Tamaiti Williams, 19.Fletcher Newell, 20.Cullen Grace, 21.Samipeni Finau, 22.Kohan Herbert, 23.Devan Flanders, 24.Leroy Carter, 25.Rivez Reihana, 26.Dallas McLeod, 27. Cole Forbes, 28.Leicester Faingaanuku.
Scotland Under-20: 1.Andrew Nimmo, 2.Rory Jackson, 3.Will Hurd, 4.Ewan Johnson, 5.Ross Bundy, 6.Jack Hill, 7.Teddy Leatherbarrow, 8.Kwagga van Niekerk, 9.Murray Scott, 10.Nathan Chamberlain, 11.Jack Blain, 12.Robbie McCallum, 13.Rory McMichael, 14.Lomond MacPherson, 15.Ollie Smith.
Substitutes: 16.Ewan Ashman, 17.Murphy Walker, 18.Euan McLaren, 19.Mak Wilson, 20.Cameron Henderson, 21.Marshall Sykes, 22.Tom Marshall, 23.Roan Frostwick, 24.Connor Boyle, 25.Ross Thompson, 26.Grant Hughes, 27.Cameron Anderson, 28.Matt Davidson.
U20s Look-back | @KT_Ten10 and @TheRugbyCorner pick their greatest players who have graced the #WorldRugbyU20s Championship.

Who'd be top of your list? pic.twitter.com/iDL9cixWxi— World Rugby (@WorldRugby) June 7, 2019