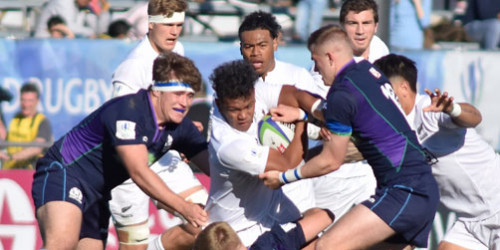 Match Details: New Zealand Under-20s v Wales U-20s, Racecourse Stadium, Rosario, 1.30am (NZT), Tuesday, June 18, 2019
Played: 7
Won: New Zealand U-20s 6, Wales U-20s 1
Last time: New Zealand U-20s 42-10 Wales, Beziers, France

FORM
New Zealand Under-20 beat Georgia 45-13 in their first game. They followed that with a 52-33 win over Scotland. But in their final pool game they were beaten 25-17 by South Africa. Wales Under-20 opened their tournament with a 30-25 win over Argentina. They lost their second game to France 13-32 but beat Fiji 44-28 in their final pool game.
---
QUICK TAP: BLACK FERNS SEVENS SECURE FIFTH SERIES WIN
---
AERIAL TEST AHEAD
New Zealand's Under-20s will be looking to make a better start against Wales. They lost momentum in the first quarter in their pool loss to South Africa and were left playing catch-up. They are also expecting a different sort of game as they believe Wales will kick the ball more which will put the demands on the New Zealand back three. The Welsh also used a strong lineout drive to effect in earlier games so there will be more pressure on the New Zealand defence. At the same time the ability to counter attack has been one of the New Zealand strengths and any Welsh kicking will need to be accurate if it is to deny the chance for New Zealand to run the ball back.

WALES TO TEST DEFENCE
Wales centre Tiaan Thomas-Wheeler said: "Under-20 rugby is different to the PRO14. It's a bit quicker and not as physical, but we all can't wait for the chance to play New Zealand. To face them is why you come to a tournament like this. You want to play against the best and prove you are the best. We've looked over their game to try and get as prepared as well as we can for the game. New Zealand will bring something different. I don't think New Zealand will be as open as Fiji. They held the ball like a potato. New Zealand's results so far have been high-scoring and they have conceded a lot of points. We've looked at that so maybe we can go after them and keep our defence tight."
U20s Highlights: check out all the action from this match day three thriller between South Africa and New Zealand at the #WorldRugbyU20s.

Final score RSA 25 NZL 17 pic.twitter.com/1FvzC7PbLw— World Rugby (@WorldRugby) June 12, 2019
THE SCOOP
Wales have had mixed results against New Zealand sides at past tournaments. In their only win, at Stellenbosch in South Africa in 2012, they won 9-6 but in the 2011 tournament they were beaten 91-0 and in the equivalent game in 2016 they were beaten 71-12.
WELSH PERSPECTIVE
Welsh wing Tomi Lewis said: "It was a good game against Fiji. It was just like playing sevens against them. Fiji weren't particularly strong at driving lineouts, so we capitalised there."
WATCH
Tune into Spark Sport for live coverage. Kick off 1.30am NZT on Tuesday morning.
TEAMS:

New Zealand Under-20s:

1.Ollie Norris, 2.Kianu Kereru Symes (captain), 3.Tamaiti Williams 4.Taine Plumtree, 5.Tupou Vaa'i, 6.Kaylum Boshier, 7.Kohan Herbert, 8.Devan Flanders, 9.Taufa Funaki, 10.Fergus Burke, 11.Leicester Fainga'anuku, 12.Dallas McLeod, 13.Quinn Tupaea, 14.Lalomilo Lalomilo, 15.Scott Gregory.
Substitutes: 16.Shilo Klein, 17.George Dyer, 18.Fletcher Newell, 19.Kaliopasi Uluilakepa, 20.Cullen Grace, 21.Samipeni Finau, 22.Jeriah Mua, 23.Simon Parker, 24.Leroy Carter, 25.Rivez Reihana, 26.Billy Proctor, 27.Etene Nanai-Seturo, 28.Cole Forbes.
Wales Under-20s: 1.Kemsley Mathias, 2.Dewi Lake (captain), 3.Ben Warren, 4.Morgan Jones, 5.Jac Price, 6.Lennon Greggains, 7.Tommy Reffell, 8.Jac Morgan, 9.Dafydd Buckland, 10.Cai Evans, 11.Ryan Conbeer, 12.Tiaan Thomas-Wheeler, 13.Max Llewellyn, 14.Deon Smith, 15.Ioan Davies.
Substitutes: 16.Garin Lloyd, 17.Rhys Davies, 18.Nick England, 19.Ed Scragg, 20.Iestyn Rees, 21.Harri Morgan, 22.Rio Dyer, 23.Sam Costelow, 24.Teddy Williams, 25.Tom Devine, 26.Ioan R Davies, 27.Will Griffiths, 28.Tom Lewis.
HAKA: In a crunch match at the #WorldRugbyU20s, the @AllBlacks U20s perform a spine tingling Haka pic.twitter.com/Qt9aObSbcr— World Rugby (@WorldRugby) June 12, 2019