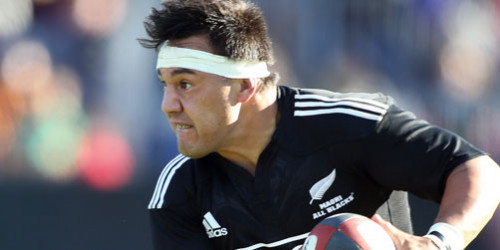 Match details: United States v Maori All Blacks, Soldier Field, Chicago, 12noon (NZT), Sunday, November 4.
RECORD
Played: 4
Won: 4, lost 0
Last time: United States 7-54 Maori All Blacks, Chicago, Toyota Park, November 4, 2016
Greatest margin: 68 points (Maori All Blacks won 74-6 at Santa Clara, June 8, 2006-Churchill Cup)
EIGHT TO DEBUT
Eight new players could take the field for the Maori All Blacks. New to the team are Wellington lock Isaia Walker-Leawere and Tasman lock Pari Pari Parkinson, flanker Mitch Karpik, wings Regan Ware of Taranaki and Jonah Lowe of Hawke's Bay while those among the substitutes are, hooker Robbie Abel from Auckland, lock Hoani Matenga from Bay of Plenty and loose forward Billy Harmon from Canterbury. Coach Clayton McMillan said some of the latecomers to Chicago, those who played in the Mitre 10 Cup final were a bit 'banged up' as a result of the overtime so they have been managed carefully. He is expecting the bench to provide plenty of impact especially as several of them had been involved in finals rugby. Ware was not originally in the side but was called in as an injury replacement for Caleb Makene who was injured in the Mitre 10 Cup final. He was released by the All Blacks Sevens in order to take part.
RIDING A WAVE
Thirteen members of the USA side were part of the team that beat Scotland during the June window with 10 of them in the starting side. Four of the team played in the 2016 game between the two sides: captain Nate Augspurger, lock Nick Civetta, flanker and Southland and former Hawke's Bay representative Tony Lamborn and reserve hooker James Hilterbrand. Civetta plays his rugby for Doncaster in England while Hilterbrand plays for Manly in Sydney. Loosehead prop Chance Wenglewski will be making his debut as will second five-eighths Gannon Moore, who is affiliated with North Harbour in New Zealand rugby. Fullback Luke Hume will be making his first appearance for the side since June 2016 while tighthead prop Paul Mullen plays for the Newcastle Falcons in the England Premiership while lock Ben Landry plays for Ealing. First five-eighths Will Hooley plays for Bedford in England.
COACH COMMENT
USA: Gary Gold (former Springboks assistant coach): "We're facing a huge challenge this weekend with a very polished Maori All Blacks side. The group of guys selected have all proven they can meet that challenge over the last week and a half of training. We know that when Saturday (Sunday NZT) comes, we'll need to show an unmatched patience and consistency within our game plan to deliver the results we know we are capable of."
Maori All Blacks: Clayton McMillan: "They'll [USA] be what we expect from a lot of American athletes, big, strong, a direct style of rugby, a lot of mauling…a very physical encounter. We're prepared to match fire with fire but want to be smart and use a bit of width as well. We need to respect the fact that the Eagles have some power up front. They have tall timber and we need to ensure we get our share of quality ball to give our backs the opportunity to play and to have a mindset of spreading the ball and doing justice to the Maori jersey."

??? TEAM NAMING | The Maori All Blacks side to face the USA in Chicago has been named.

FULL SQUAD ?? https://t.co/iUXboK5sQw pic.twitter.com/z0cT23DmJp— All Blacks (@AllBlacks) November 2, 2018