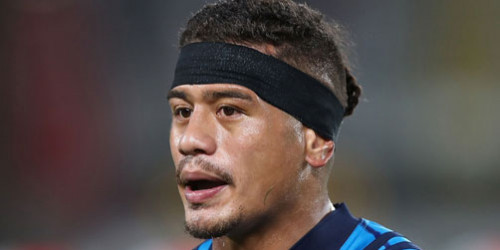 The halfback has had to sit back and endure the pain of another flawed Blues campaign and unable to do little more than offer support from the sideline and guidance at training while recovering from a foot injury suffered before the side left for the South African leg of their season.
---
QUICK TAP: BLUES v JAGUARES MATCH PREVIEW
---
Pulu said it hadn't been easy sitting back injured and watching his side failing to get the reward for the effort that was going in. But he did feel the situation had brought the side closer together.
If there was one silver lining to his situation came from having to watch with a detached point of view, something he felt had helped his thinking about how, as a captain, he could lead the team in certain situations.
"It has helped big time. When you are amongst it you get caught up in the game. But being injured, and staying offside and having a good view has really helped me grow that knowledge and build that belief that I can see everything to put into place by those little details that we hopefully will finalise this weekend and hopefully we will get the result that we want.
"If we can execute our game plan and the options that we have seen and really nail it I reckon it will be huge for us," he said.

????23 finalised for home game against Jaguares
?? Sat 28 Apr | 7.35pm
?? Eden Park
?? https://t.co/2QKbedTFTC pic.twitter.com/9ZQ8al1ORq— The Blues (@BluesRugbyTeam) April 26, 2018
The side's injury situation, especially with several senior players going down with injuries, had been frustrating but at the same time it had provided opportunities for young players to have a taste.
"What it creates is a battle for your jersey when everyone comes back from injury so it's a win-win both ways," he said.
The key for the young side was to make sure they nailed the game plan chosen for the game.
"If you get clarity you get good performances and it is about going out there and backing each other and enjoying footy and remembering why we play this game. That's where we need to get to, enjoying our footy and taking all these opportunities that we get to play," he said.
The Jaguares were a good team with their international players and their ability with the ball in hand, combined with being big and strong, but the Blues needed to be aware of that but equally, if not more, aware of their own game plan," he said.
FLYING FULLBACKS! Who will have more impact tonight? Matt Duffie for @BluesRugbyTeam or Joaquin Tuculet for the Jaguares?

?: 7.35pm Saturday 28 April
???: Eden Park
???: https://t.co/PRjjhdvKx9
??: SKY Sport NZ
??: #BLUvJAG pic.twitter.com/IeeULPzkAd— Super Rugby (@SuperRugbyNZ) April 27, 2018