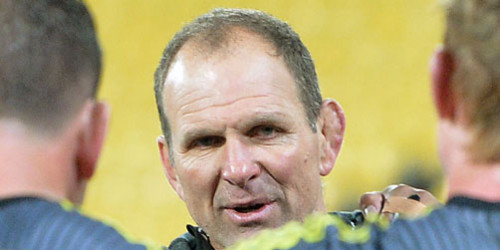 Coach John Plumtree is under no illusions about the challenge the Rebels represent.
---
"The Rebels are at the top of their Conference and have got an international pairing at nine and 10 [halfback Will Genia and first five-eighths Quade Cooper], they're big and tall and their pack works real hard. They've got some outstanding finishers out wide and a solid midfield as well," he said.
"The Rebels are more than capable and they've shown that this year, they've been able to win away from home, they're a well-organised group
"They're physical as well, they don't mind some driving, so we've got a lot of respect for that, the players have seen that. We've had to do a fair bit of homework as coaches, as we haven't seen much of them so we're expecting it to be fairly tough," he said.
Plumtree said having first five-eighths Beauden Barrett captain the side would change nothing. He enjoyed the captaincy challenge and generally stepped up as required.

?? STATS | Expect a lot of points when @Hurricanesrugby and the Rebels clash in Wellington on Saturday at Westpac Stadium.

? KICK OFF: 5:15pm
?? Use code "515" for 30% off your ticket! pic.twitter.com/y0BWHDwj4w— Super Rugby (@SuperRugbyNZ) May 2, 2019
"He'll continue to drive our ship from a driver's perspective and obviously lead us as well, like he has done all week," he said.
The loss of prop Ben May was disappointing as he had been in good touch. Just how long he might be out would be dependent on an assessment he had on Thursday.
"But right now he's not available and it's not good news for us at tighthead. Hopefully it won't be too bad, but he's not very happy about it at the moment," he said.
Jeff Toomaga-Allen would start instead and with more than 100 games for the side, Plumtree was in no doubt of what he could bring to the starting role.
However, May's absence was on top of the continuing frustration with hooker Dan Coles' on-going delayed return which had seen a cautious approach being taken on his recovery.
"We haven't put a timeframe on it. We've allowed the medical staff to work away with him. I'm putting no pressure on Colesy and I don't want him to put pressure on himself.
"We've got to make sure that when he comes back that he's feeling really good and that he can play a part for the rest of the year hopefully without reinjuring that calf muscle. Holding him back is not easy, trust me, he's the type of character that just wants to get going," he said.
Starting Isaia Walker-Leawere was the result of the apprenticeship he had been doing this year and Plumtree was looking forward to seeing what he offered with the chance to start.
"His preparation this week has been good and I know he's looking forward to it so [we'll] see if he can take that opportunity," he said.
. @DoveMenCare Team Naming | Family Day Lineup ??‍??‍??‍?? pic.twitter.com/YmumEyI5Su— Hurricanes Rugby (@Hurricanesrugby) May 2, 2019