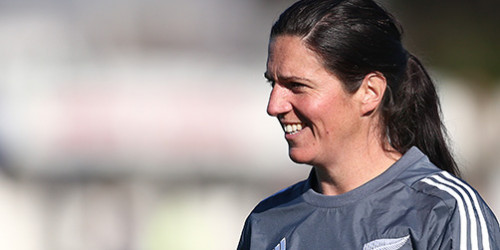 Last year she became the first female referee to officiate a Heartland Championship match and just last week she reffed the Ranfurly Shield match between Otago and North Otago in Oamaru, the first woman to do so.

The New Zealand Rugby referee was well looked after in sunny North Otago and thoroughly enjoyed the occasion.

"I tried to approach it like it was just another game. I was really fortunate that the guys made it a good spectacle and it was a nice dynamic, having a Heartland team take on a Mitre 10 Cup side. It had a good local derby feel about it."

The former Black Fern has reffed a fair bit of men's rugby in Wairarapa Bush this year, so she's used to the different styles of play and the different speeds at which the game is played. Mahoney said the feedback was constructive after Friday's match.
Check out all the best bits from this afternoon's Ranfurly Shield clash between @OtagoRugbyTeam and North Otago in Oamaru.

HIGHLIGHTS ???? https://t.co/KoyT7JXmK0 pic.twitter.com/dAiVLaNqIT— Mitre 10 Cup (@Mitre10Cup) July 26, 2019
"You always have plenty to take away from a game. You do tend to dig out the work ons rather than the good things, but there is always stuff I can improve on. I just need to take all the work ons on board and make them happen."

Mahoney played 16 Tests for the Black Ferns so she's extremely knowledgeable when it comes to the game, but she's particularly invested in the women's set up. From her position as a referee, Mahoney has noticed the women's game is getting bigger, faster and stronger.

"I saw the step up first-hand when I was recently in San Diego for the Women's Rugby Super Series. Watching the girls play over there, I could see that the level of physicality and fitness levels have definitely increased. You can tell that it's because the girls are having so much more time with each other in a team environment and they now have the ability to develop key connections and work on structures. The women's game is taking off big time."

The 35-year old Wairarapa farmer is looking forward to refereeing more Farah Palmer Cup matches in 2019 and she'll happily officiate any other games that New Zealand Rugby appoint her to. She's got a few more pre-season games to ref in the lower North Island before getting stuck into the busy provincial rugby season.

It's highly likely that Mahoney's performances will warrant selection for a Mitre 10 Cup fixture this year, but she is happy to take what she's given and run with it.

"I just love reffing so whatever the game is, I'm happy. I have end goals I want to achieve with the Women's World Cup and other things but whatever happens, happens."

Expect the trend of firsts to continue for Mahoney in 2019. Watch this space.
??Renee Wickliffe puts the hard (and fast) questions to Les Elder and Leilani Perese.

Just 10 sleeps until we take on the @WallaroosRugby in Perth!#BlackFerns pic.twitter.com/izXAdPEs1a— Black Ferns (@BlackFerns) July 31, 2019