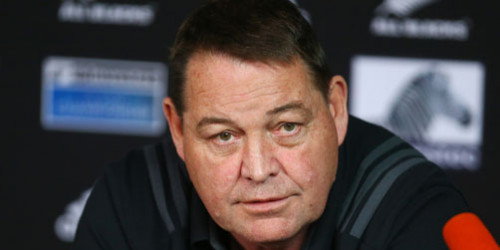 Preparing for their first Test in Nelson, coach Steve Hansen said the All Blacks had a lot of respect for Argentina. They were big, good in the set-piece, were growing their running game and they had plenty of pace.
---
"There's no thought that this is just going to happen, we have to go out and make it happen," he said.
New coach Mario Ledesma had worked well with the Jaguares in Super Rugby and had put his coaching experience gained in Argentina, Europe and Australia to good effect in developing how they wanted to play.
"He's bringing new ideas, I would say, that are stimulating them and they tell me he's a very humorous guy so he's obviously bringing a bit of fun with it as well and when you get those two things together you usually get a performance," Hansen said.
The All Blacks selectors have opted to look to the depth in their squad with first five-eighths Richie Mo'unga set to make his starting debut.
"We've got a quality squad. That allows you to then be confident to make changes for the very reasons that we've stated. That being: 1 – we've got a long season so if we don't play players from off the bench, or from the wider group, then we're going to flatten the guys that have to play every week and 2 – if we don't play them we don't grow them. But the fact that they're very talented athletes makes it a little easier," he said.
It had always been intended to start Mo'unga against Argentina and that was more down to his time in the team environment.
In his role he had to drive the team while also being comfortable in his own skin in the team environment to be able to do that, he said.
There was no doubt he could play rugby, he was a confident young man and because of that Hansen was confident he would front up on Saturday night and play well.
There was no pressure on Nehe Milner-Skudder returning to Test action as the selectors had a lot of faith in him and Milner-Skudder knew that.
"We gave him plenty of rugby leading into this game so he's not coming off a platform of not much football. So he's coming in with confidence, he backs himself and we're backing him to do the job as well. I'm looking forward to seeing him play and he'll light the place up at some point I'm sure," he said.
The fact there was only one openside flanker in the 23 in Ardie Savea was a challenge for the side and Hansen said it could be something that happened in a World Cup campaign and with that in mind it was worthwhile to trial it beforehand. Luke Whitelock will be the openside cover from the bench.
They were also mindful in their selection of wing Rieko Ioane's hamstring which had been tested and shown to be 100 percent but they opted not to over-extend him early in the campaign and risk him pulling it again.

SELL OUT | ??? It's going to be a packed house in Nelson on Saturday night!

READ ?? https://t.co/zxS30RMCZ8

Don't miss out on getting your tickets for the All Blacks v South Africa test in Wellington. Buy now ?? https://t.co/bAxyRd1mr8 pic.twitter.com/PzEJKBS3QJ— All Blacks (@AllBlacks) September 6, 2018
Hansen explained Jackson Hemopo had bruised a knee joint and hadn't been available for selection but he was back training and would be doing contact training next week.
Halfback Te Toiroa Tahuriorangi would have the chance to make his first appearance from the bench and Hansen said he also had been worked into the team environment and while he hadn't had a lot of rugby during the Super season, they had worked him hard and he was confident if he needed to he could go the 80 minutes.
"It's now time to take the risk and reward factors into consideration of playing him and we feel the rewards will be many so we're prepared to put him on the bench," he said.
Hansen said with Shannon Frizell in the side and Vaea Fifita getting time with Wellington they were starting to build depth on the blindside flank of the scrum. Hemopo, while not playing, was also getting vital exposure to the side and Hansen said all three players were going to be valuable in the future.
TEAM NAMING | Here is your #AllBlacks 23 to take on Argentina in an Investec Rugby Championship clash in Nelson this weekend.

FULL STORY: https://t.co/tNewWvI8KU#NZLvARG pic.twitter.com/FNKfHHFyYr— All Blacks (@AllBlacks) September 5, 2018