That was Sir Michael Jones' summation when commenting in Behind the Silver Fern.
Sean Fitzpatrick's side, a year after the frustration of losing the Rugby World Cup final, also in South Africa, returned on the modern era's version of a tour to play four Tests. The first was a return Tri Nations game after New Zealand had won the first in Christchurch 15-11.
Beating Australia in their two Tests meant they wrapped up the inaugural Tri Nations with their 29-18 win at Newlands, having to come back from 6-15 down at halftime. But tries to prop Craig Dowd and wing Glen Osborne got the first job done.
They then began what became the last tour of South Africa, a seven-game affair. Professional rugby had arrived a year earlier, and it would soon change the format of the world game forever.
But having been unable to do the job in 1928 (2-2), 1949 (0-4), 1960 (1-2-1), 1970 (1-3) and 1976 (1-3), the All Blacks knew they had probably one last chance to cleanse their record book.
First up was a Test in Durban. It was a typically bruising encounter. It was more urgent because the All Blacks knew that to claim a series win they had to win the first Test. They outscored South Africa three tries to one, but first five-eighths Joel Stransky's goal-kicking kept them in hunt, as he landed four penalty goals to two from his All Blacks marker Simon Culhane.
Attention then turned to Pretoria, at altitude, where the All Blacks knew a win in Pretoria would be much easier than attempting to do it a week later in the cauldron of Ellis Park in Johannesburg.
The All Blacks started fast and went to the break ahead 21-11, but South Africa closed it up in the second half. Wing Jeff Wilson scored two tries, and Zinzan Brooke got over as well. Replacement first five-eighths Jon Preston landed two penalty goals, one from 50m being his first touch of the ball after coming onto the field, and Brooke dropped yet another of his goals to keep the All Blacks in front.
But with time counting down, the Springboks attacked hard and long.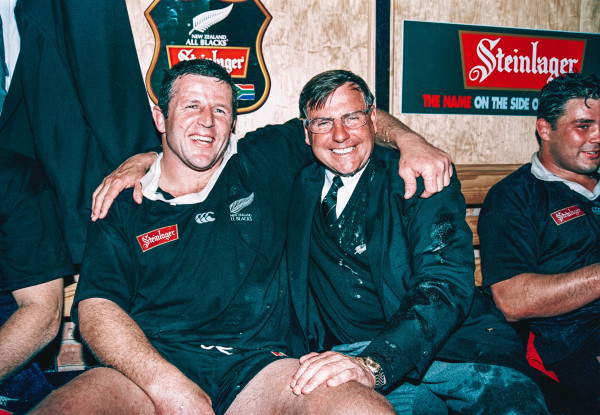 "We'd built a sizeable lead, but expended a lot of energy and were close to exhaustion as the Springboks battered away at our line. It was one of the most physically sapping games I have ever been involved in. I doubt I could have picked myself up for another scrum," Jones said.
Fitzpatrick said the 33-26 win was monumental. That was hit home after the game. Former All Blacks fullback Don Clarke greeted him in the tunnel. He had tears running down his face. He thanked Fitzpatrick for what he had done for all those past All Blacks who hadn't been able to do it.
The series was won, with a Test to play. The Springboks prevented a clean sweep, winning 32-22 with both sides scoring three tries. This time the difference was the goal-kicking of first five-eighths Henry Honiball and fullback André Joubert that made the difference.
Greater contact with South Africa has eliminated the mystique that used to surround series between the two great rugby rivals, but for those who understand their history, the achievement of 1996 rates among the finest in All Blacks history.
The side would forever be remembered in All Blacks history as the 'Incomparables'.
Tune into the All Blacks youtube channel or facebook page for a full replay of the 1996 Pretoria clash at 7pm NZT on Tuesday 24 August.