The All Blacks had their best chance to finally return the World Cup to New Zealand 24 years after the side won the inaugural event, also against France and also at Eden Park.
It was the culmination of an outstanding seven weeks of rugby. The 8-7 victory, achieved by a Tony Woodcock try and a Stephen Donald penalty goal, is among the most memorable achievements in New Zealand rugby history.
The side, under coaches Graham Henry, Steve Hansen and Wayne Smith, had been building towards 2011 since the humiliation of a World Cup quarterfinal exit at the hands of the French in Cardiff in 2007.
Who were they, and what are they doing now? Allblacks.com has been checking them out.
Corey Flynn: Hooker Corey Flynn played 15 Tests for the All Blacks but not again after the World Cup. He continued to play for the Crusaders until 2014, ending with 150 appearances in Super Rugby. He continued his rugby career playing professionally for Stade Toulousain from 2014-16 and Glasgow Warriors 2016-17. Flynn returned to New Zealand and is working in the construction industry.
Andrew Hore: Hooker Andrew Hore continued appearing for the All Blacks until 2013, completing 83 Test matches. While he was selected for the All Blacks from the Hurricanes for whom he played 106 games, he switched to the Highlanders and made 29 appearances in 2012-13 and completed 63 games for Taranaki between 2001-12. He is sheep farming in Otago.
Keven Mealamu: Hooker Keven Mealamu continued with the All Blacks and won a second World Cup winner's medal in 2015, his last Test being the Cup final. That also ended his first-class career with 164 appearances for the Blues and 65 for Auckland. Having been an apprentice signwriter before his rugby career, he illustrated several books in fund-raising work for Auckland's Starship Children's Hospital, where he is an ambassador. He owns Fit60, a function and group training facility in Papakura.
John Afoa: Prop John Afoa's World Cup campaign was the last of his 36 Tests for the All Blacks. He had completed 101 games for the Blues over an eight-year career while also playing 70 times for Auckland. He played for Ulster 58 times between 2011-14. He transferred to Gloucester and made 105 appearances between 2014-18. He was one of the highest-paid players in the Premiership and the third highest-paid player in Europe. Since then, he has been plying his trade with Pat Lam's Bristol side with more than 70 games to date while also taking on the scrum coach role this season.
Tony Woodcock: Tighthead prop Tony Woodcock ensured his place in All Blacks' history when scoring their only try in the 8-7 final win in 2011. He picked up another winners' medal in the 2015 World Cup, his last for the All Blacks. He appeared in 118 Tests, 137 games for the Blues and 54 times for North Harbour. Woodcock farms at Kaukapakapa.
Ben Franks: Another double World Cup winner prop Ben Franks retired after the 2015 World Cup taking up with London Irish for who he played 54 times until transferring to Northampton for three seasons, ending in 2020 when he was appointed scrum coach for the Scarlets in the Pro14 competition. He and his brother Owen created Franks Brothers' gyms which were franchised.
Owen Franks: Prop Owen Franks' outstanding All Blacks career, in which he appeared in 108 Tests between 2009-2019, ended when he missed out on selection for the 2019 Rugby World Cup. He transferred to Northampton, making 22 appearances before finishing with them at the end of the 2021 season. He has signed with the Hurricanes for the 2022 Super Rugby season. He earlier played 150 games for the Crusaders in Super Rugby.
Anthony Boric: Lock Anthony Boric played 25 Tests between 2001-11 and made 73 appearances for the Blues. He also played 58 times for North Harbour. He completed a degree in civil engineering in the same year as he made his All Blacks debut. He is now a project manager in commercial construction in Auckland.
Brad Thorn: The 59-Test All Black hasn't been able to get rugby out of his system since ending his playing days with Queensland Country in 2016. After 92 games for the Crusaders in two stints, 2001-04 and 2008-11, he had stints in Japan and Ireland before having two seasons with the Highlanders in 2013-14 and then 12 games for Leicester in the 20-14-15 season. Moving into coaching the former Brisbane Broncos double centurion in NRL games, he had two seasons as coach of Queensland Country before taking on the Queensland Reds position in 2018.
Samuel Whitelock: The only member of the 2011 World Cup-winning team still playing Test rugby has reached 127 Tests since his debut in 2010. He won a second World Cup winner's medal in 2015 and was part of the team that took third place in the 2019 World Cup. In 2021 he became All Blacks captain in Sam Cane's absence through injury. He has also played 163 games for the Crusaders, had a partial season in Japan cut short due to Covid-19 and has made 22 appearances for Canterbury.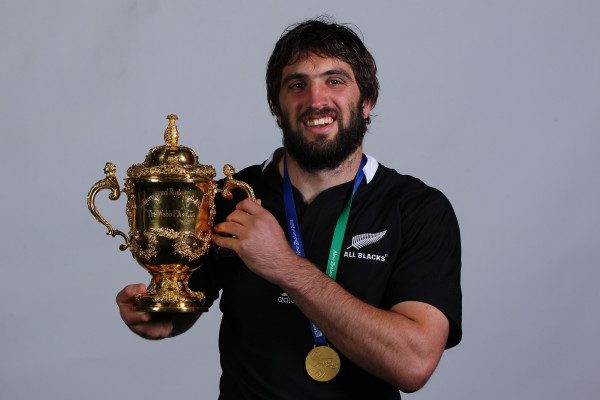 Ali Williams: Lock Ali Williams played 77 Tests for the All Blacks between 2002-12. In 2013 he began a two-season stint with Toulon in France, making 35 appearances for the side, and, in 2016-17, he played for Racing 92. He has worked in SKY Television in a comments role and works in commercial property in Auckland.
Jerome Kaino: Having ended his playing career at the end of the 2020-21 season with Toulouse, where he won a European title and two French Top 14 championships, 83-Test veteran Jerome Kaino has moved into coaching with the French side. He made 62 appearances for the French side after 137 games for the Blues, broken by a stint with Toyota Verblitz after the 2011 Rugby World Cup. Kaino returned to New Zealand and won a place back in the All Blacks. Hewas a key member of the 2015 Rugby World Cup success earning his second Cup winner's medal before retiring from Test rugby at the end of the 2017 season in which he played against the British & Irish Lions.
Richie McCaw: Still one of the most recognisable members of the rugby fraternity, Richie McCaw remains the only person to have captained sides in two World Cup final victories in 2011 and 2015. He retired at the end of the 2015 World Cup after 148 Test matches, 110 of them as captain. He was the world's most capped player and a three-time winner of the World Rugby Player of the Year, while also World Rugby's player of the decade 2011-2020. He was awarded the Order of New Zealand, the country's highest honour. Now an owner/director of Christchurch Helicopters, he also works with New Zealand Tourism. He has also been inducted into World Rugby's Hall of Fame. He was the subject of a film, Chasing Great, released in 2017.
Kieran Read: Having ended his 128-Tests career at the 2019 Rugby World Cup, two-time World Cup winner, No8 Kieran Read, played a season in Japan. With 156 appearances for the Crusaders in Super Rugby, Read also managed to round out his first-class career in New Zealand with games for his Counties Manukau side in the NPC. He was the second most capped All Blacks captain, having led the side in 52 Tests. Read is developing a leadership course and has also worked with SKY Television
Adam Thomson: Loose forward Adam Thomson was a World Cup winner in 2011 and ended his Test career, after 31 Tests, to play in Japan, making 46 appearances with the Canon Eagles. He then played again in Super Rugby, building on the 67 games he played for the Highlanders between 2006-12 to play for the Reds (2015), the Rebels (2016) and the Chiefs in 2019 finishing his career on the round 100 Super Rugby games. He also played 11 times for Waikato in 2020. Thomson said he would work in his talent management company and with his partner's skincare company after his rugby career.
Victor Vito: Another of New Zealand's double World Cup winners, lawyer Victor Vito has been playing rugby for La Rochelle in France since 2016. A 33-Test All Black the loose forward was awarded the Top 14 Player of the Year Award in 2017. He finished his Hurricanes career with 100 games before heading off to France. He is continuing to play for La Rochelle.
Jimmy Cowan: Halfback Jimmy Cowan capped his 53-Test career with success at the World Cup in 2011. He continued into the 2012 season with the Highlanders and completed 108 Super Rugby games before a three-season stint with Gloucester, for whom he played 38 times. Back in New Zealand, he returned to play 23 games for Tasman in the NPC, and another 14 Super Rugby games for the Blues, before finishing in his home province of Southland, where he notched 111 games. Cowan has worked in the oyster industry in Southland since retiring.
Andy Ellis: Twenty-eight Test All Black and World Cup winner in 2011, halfback Andy Ellis continued playing in New Zealand until 2016, posting 154 games for the Crusaders and 73 games for Canterbury. In 2014 he signed with Kobelco Steelers in Japan and played 56 times for them until 2020 when he signed with Rugby United New York, where he is still playing. He had a stint in radio and owns Gravity satellite internet for rural areas lacking broadband access while also producing Black Origin brand Wagyu Beef for New Zealand restaurants.
Piri Weepu: Halfback Piri Weepu played 73 Tests for the All Blacks before heading offshore to play for London Welsh in the 2014-15 season, where he suffered a stroke. He also had stints with Wasps, Oyonnax and Narbonne before rounding out his career in 2017 playing Heartland rugby for Wairarapa Bush. He played 124 Super Rugby games, 84 for the Hurricanes and 40 for the Blues. He took on goal-kicking duties for the All Blacks during the 2011 Rugby World Cup campaign and since retiring has been involved as a television personality.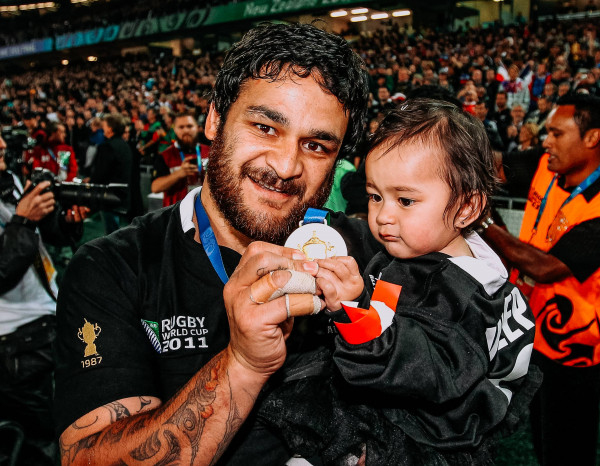 Dan Carter: Outstanding All Blacks first five-eighths Dan Carter played the last of his 112 Tests in the 2015 Rugby World Cup final against Australia at Twickenham. He signed with Racing 92 and played 57 times. In 2018, he transferred to Japan's Kobelco Steelers ending his career in 2020. He still holds the world Test scoring record of 1598 points. He is the subject of a recently-released pictorial biography of his Test career. He was also the subject of a film, Dan Carter: The Perfect 10 released in 2019. He is a director of Glorious, a Non Fungible Token, and has a role at Oxford University mentoring entrepreneurs online.
Colin Slade: First five-eighths Colin Slade played 21 Tests for the All Blacks and was part of the 2011 and 2015 Rugby World Cup triumphs. A 57-cap performer for the Crusaders, and 21 caps for the Highlanders, he signed for Paul in 2015, playing 84 times for the club until, in 2020, he transferred to Japan, where he signed with the Mitsubishi Dynaboars.
Aaron Cruden: Another of the double World Cup winners with the All Blacks, first five-eighths Aaron Cruden played 50 Tests for the side between 2010-17. After completing 100 games for the Chiefs in 2017, he signed with Montpellier in France, making 47 appearances. He returned to New Zealand and played another 11 games for the Chiefs in 2020 before taking up a contract with the Kobelco Steelers in Japan.
Stephen Donald: The penalty goal landed by 2011 World Cup replacement player Stephen Donald has entered New Zealand sporting folklore and was the subject of a television programme, 'The Kick', that aired on TVNZ in 2014. Donald signed with Bath in 2011, playing 34 games until 2013. He returned to New Zealand and played variously for Waikato, the Chiefs, for who he finished with 106 games, and Counties Manukau. In 2016 he signed with Suntory Sungoliath and had stints with Toshiba Brave Lupus and NEC Green Rockets. Donald has business interests and works on SENZ radio. He is also assisting in coaching Waikato's NPC team.
Richard Kahui: For a player who suffered such severe injuries during his All Blacks career, three-quarter Richard Kahui has packed plenty into his post-New Zealand career. After the 2011 World Cup success, Kahui, who played 18 Tests for the All Blacks, continued to play for the Chiefs until 2013 before signing with Toshiba Brave Lupus in Japan, appearing 63 times until 2019 when he joined the Western Force and playing in the Super Rugby Tasman series in 2021.
Ma'a Nonu: Second five-eighths Ma'a Nonu played most of his 103-Test career operating out of his home base in Wellington, but since the 2015 World Cup win, he has been on a grand rugby tour of his own, playing 93 games for Toulon between 2015-21, in San Diego in 2020 and most recently, on New Zealand's East Coast in Heartland rugby.
Conrad Smith: Like all his teammates who retired as double World Cup winners in 2015, centre Conrad Smith could reflect on the lessons of the quarterfinal exit in 2007. But at that stage, he was also qualified as a lawyer. However, he opted to continue his rugby career with Pau in France, retiring in 2018 as a player but continuing as a defence coach and high performance manager in 2020. He is a players' representative on the New Zealand Rugby Players' Association board and works for the International Players' Association.
Israel Dagg: Fullback Israel Dagg burst onto the Test rugby scene in 2010 and won selection in the 2011 World Cup squad. He played 66 Tests for the All Blacks. He also played 89 times for the Crusaders and 25 times for the Highlanders. He continued until 2019 when succumbing to the last of several knee injuries that affected the latter stages of his career. He has moved into media engagement on television and radio.
Sonny Bill Williams: Multi-talented sportsman Sonny Bill Williams played 58 Tests for the All Blacks, sharing in the 2011 and 2015 World Cup successes. He continued to play for the All Blacks until 2019 before taking up a league contract with Toronto Wolfpack. He returned to the Sydney Roosters in 2020. Resuming his boxing career in June this year, he had his first bout in six years, winning a unanimous points decision over Waikato Falefehi in Townsville. He has just released his autobiography and is doing media work for Stan Sport in Australia.
Zac Guildford: Wing Zac Guildford played 11 Tests for the All Blacks and appeared in the 2011 Rugby World Cup success. He continued to play for Hawke's Bay until 2015 making 77 appearances while his 61-game career with the Crusaders entered in 2014. He later played for the Waratahs, Wairarapa Bush and Waikato. Guildford now works with Te Hauora Runanga O Wairarapa, a Māori kaupapa wellbeing organisation.
Cory Jane: Wing Cory Jane made 55 appearances for the All Blacks, sharing in the 2011 World Cup success. He continued playing for the Hurricanes until 2017, making 123 appearances. He had a 14-game stint with the Toshiba Brave Lupus in 2016-17 and is an assistant coach with the Hurricanes.
Mils Muliaina: Fullback and centre Mils Muliaina played his 100th Test, only the second by an All Black, at the 2011 Rugby World Cup before fracturing his shoulder. He retired after the tournament final and played for two seasons in Japan for NTT DoCoMo. He had seasons in Connacht and Zebre before completing his career in the United States with the San Francisco Rush. Now involved as a SKY Television rugby pundit, Muliaina works as a mortgage advisor.
Isaia Toeava: Utility back Isaia Toeava completed his 37-Test career with the All Blacks in the 2011 World Cup campaign. He had another season with the Blues completing 61 games before signing with the Canon Eagles in Japan in 2012 and then the Kubota Spears in 2014. From 2016-2020 he played 65 times for Clermont in France and, in 2020, he signed with Toulon.