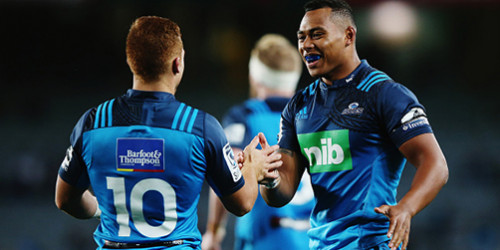 Played: 12
Won: 6
Lost: 5
Draw:
1
Position: 5th in NZ Conference
Leading points scorer: Ihaia West 130 points
Leading try scorer: Melani Nanai, Tevita Li, Ihaia West four tries

Best moment
Twenty-five minutes into the Blues opening game a comet streaked across Eden Park in the shape of flanker Blake Gibson, a former New Zealand Under-20 player who provided excitement in the loose throughout the game and who demonstrated his potential superbly. Perfectly placed to take a support pass from halfback Bryn Hall, Gibson set sail for the goal-line. He said he didn't expect to make it – with due cause, a certain All Black named Ben Smith was blocking his way. That made no difference to Gibson, he barrelled straight through Smith and scored a try that lifted his team-mates and had the Eden Park faithful searching for superlatives.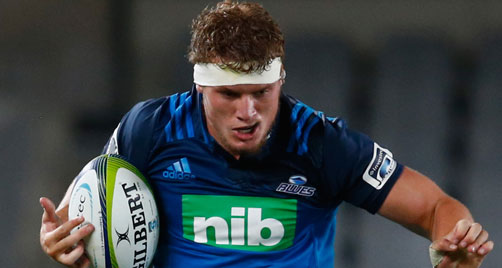 Top player
It has been tough going for the Blues attempting to fight their way back from the doldrums and that has made the job harder for all players in the team. The need to cover others backs is greater when you're operating on a 50:50 success ratio. But flanker Jerome Kaino has been a guiding light for the side, trying hard to provide the inspiration for his young team. He has been closely attended by hooker James Parsons and the signs are emerging that this is a Blues side with some hopes of re-establishing themselves higher up the ladder in the next year or two.

Work-ons
Overcoming some poor starts is the biggest requirement. It is all about playing at a consistent level, at a tempo that takes the fullest advantage of their abilities. They have shown what they are capable of in glimpses, but need to extend that to 80 minutes and beyond. Under the most demanding defensive scrutiny in their last game against the Crusaders the side demonstrated their mettle and it is a case of supplementing that with their flair to turn their results around. Avoiding unnecessary penalties would be another help, although that also comes with playing more consistently.
HOW GOOD!? Was this @billy_guyton pass the play of the round?#KINvBLU #SuperRugby @BluesRugbyTeam pic.twitter.com/hfwFGL2HA6— Super Rugby (@SuperRugbyNZ) May 7, 2016
Prospects
The Blues are not going to make the play-offs, although that is more to do with the nature of the Conference system. But they are in a position to claim more points than all but the winner of the Australian Conference. They are also on the right side of the ledger at the moment and with a strong finish could provide a confidence boost for next season when they will have the drawcard of Sonny Bill Williams to savour.
#Reunited pic.twitter.com/SmVCqnugpJ— Super Rugby (@SuperRugbyNZ) June 1, 2016