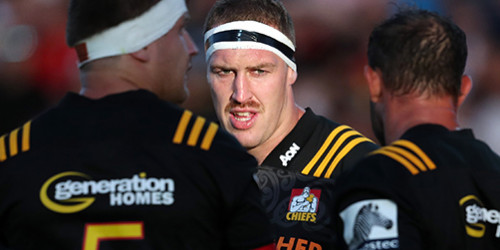 The Chiefs need a win to keep their hopes alive while securing a bonus point with the win should be enough to see them make the playoffs.
"It's been a long eight weeks but I'm definitely excited to get out there against the Rebels," Retallick said.

"It was quite tough watching, especially if we didn't get the result. It was pretty exciting over in Fiji that's for sure, being a bit more of a fan, but the eight weeks has been good in hindsight, especially around my fitness and my body. I don't think fitness should be an issue thanks to the trainers here for the last eight weeks."
In readiness for his return he had a full week of training in Fiji which was slightly more controlled and made him feel he should be in good shape to play, although it would be dealing with aspects of the game under pressure that couldn't be replicated in training that might be an issue.
"I'm pretty happy where I've got to skill wise and physically. So we'll have a bit of intensity at training tomorrow [Tuesday] and I'll get stuck in and then other than that I'll just go on and play," he said.
Part of the preparation was based around negating the Rebels' ability to win opposition ball at the lineout where they were the best in the competition.
"Hopefully, we've come up with a good plan without giving too much away," he said.
However, he had noted that when the Crusaders sped the game up they had caused issues for the Rebels in Christchurch by keeping the ball in play.
Retallick said he had been impressed with the way the Chiefs had remained in the hunt for a playoffs berth. Their tackle count against the Reds had been outstanding while their comeback from 0-20 down against the Crusaders in Fiji had shown the heart and commitment to the cause.
"We can score tries and we can make tackles, so if we can do that for 80 [minutes], it's do-or-die for both teams this week so that is what we will need to do," he said.
Cane's return had also been massive for the side, he said.
"Especially against the Crusaders. Someone with an injury like that to come back and be as physical and putting his head in and winning the turnovers like he did last week is a huge effort not only physically but mentally also. He's been great in the last couple of weeks," he said.
ROUND 1?8? | The equation is simple for @ChiefsRugby and the @Highlanders, win to keep your playoff chances alive. #RaiseTheStakes pic.twitter.com/7LVucogvKc— Super Rugby (@SuperRugbyNZ) June 9, 2019