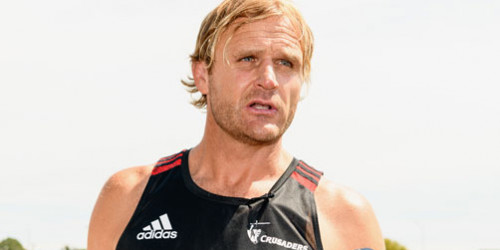 There was a lot of hype around the game, he said, and that was good.
"The bigger the better for the game. I hope there's 40,000 people. The Blues are strong and we want to test ourselves.
---
"It's been a tough few years for them and that's why there's a sense of hope coming on. You want Eden Park to be full, you want every ground to be full. It's great the hype they've built around this game, the sight of Ma'a [Nonu] coming in, and Leon [MacDonald-coach]. It's good for New Zealand rugby, builds depth in our playing stocks and gets people watching footy," he said.
It would be the first time in his three years with the side that the Crusaders had played their first game away from home and that was a different feeling.
"We want to get momentum, we want to start Super Rugby big and keep that going for the whole year so what a perfect match-up, it's ideal for Super Rugby and both teams," he said.

Flanker Ethan Blackadder hadn't been considered for selection as he had suffered a shoulder contact injury during the pre-season and they were giving him extra time to recover from it. It wasn't serious and he would get his opportunity soon, he said.
Centre Jack Goodhue was a similar concern. He had a slightly tight groin and given the length of the season for him, they gave him another week as well.
They were lucky to have depth in the position and it had been tough on Tim Bateman, but Braydon Ennor was more than capable of handling the task.

ROUND 1? | All five New Zealand teams will #RaiseTheStakes in this week's opening round of #SuperRugby! Who are you picking to come out on top? ?? pic.twitter.com/LD5uwKutZG— Super Rugby (@SuperRugbyNZ) February 13, 2019
No.8 Whetukamokamo Douglas had made an impact since returning to the side, he had a lot of influence in the squad and was a great leader, and it was great to have him back, Robertson said.
Will Jordan was another who had impressed in pre-season and had been named on the bench to cover wing-fullback.
"He's a prodigious talent and you could see in the pre-season his obvious ability to beat players and take opportunities. He's got a good eye for the gap and a bit of speed. He'll get his chance on debut, off the bench. He's a good local boy and he's always dreamed of being a Crusader so it's a dream for him this weekend," he said.
Having been a coach with the World XV last season, Robertson was familiar with the shape Blues centre Nonu was in and said it was a credit to his professionalism that he was ready to play in Super Rugby again.
Robertson said he wasn't surprised by the Blues' selection choices of introducing their All Blacks off the bench. The Crusaders had gone the opposite way around because they wanted to get the combinations right early.
"There's a couple of ways to set your team up to succeed early," he said.
ICYMI: Our team for Saturday night's @SuperRugbyNZ clash v @BluesRugbyTeam #BLUvCRU #likenoother #crusadeon pic.twitter.com/409N95m4yM— BNZ Crusaders (@crusadersrugby) February 14, 2019