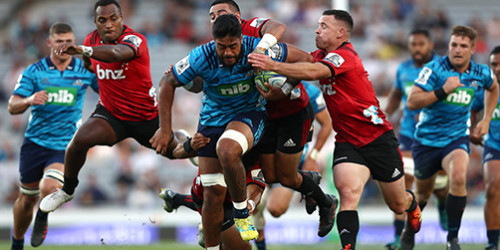 CENTRES OF ATTENTION
It was always going to happen but Saturday night at Eden Park demonstrated the moment has arrived. Jack Goodhue has some serious heat on his tenure at centre as a result of Braydon Ennor's performance against the Blues. Since his dazzling performances in the NZ Under-20s 2017 success at Tblisi in Georgia, Ennor was always going to shape as a potential centre for the Crusaders. Others got much of the credit in the Under 20s win but Ennor was in much of the play setting up his outsides and there was a genuine look of Bruce Robertson about him, and praise doesn't come much higher than that. Competition will certainly bring out the best in Goodhue so there will be another area of interest in the Crusaders' performances.
---
QUICK TAP: ROBERTSON SIGNS WITH CRUSADERS UNTIL 2021
---
THOSE KICKING BLUES
Points earned from goal-kicks are best regarded as a bonus – that's if your goal is to win games by scoring tries, which is pretty much a southern hemisphere belief in the way rugby should be played. So to see two players at opposite ends of the experience scale duff match-winning goal-kicks on Saturday is a reminder of how fine the line can be between success and failure. For the Blues, debut five-eighths Harry Plummer missed a conversion he should have landed and a penalty goal that was a toughie from 46m – the former would have given the Blues a draw and the latter a win. While Waratahs and Wallabies five-eighths Bernard Foley, already celebrating having been the highest points scorers for the Sydney side missed a potential matchwinner by the width of the Brookvale Oval goalposts in the last moments against the Hurricanes.
Welcome back to #SuperRugby Ma'a! ???? pic.twitter.com/9ivaks4l2f— Super Rugby (@SuperRugbyNZ) February 16, 2019
WHAT'S GOING ON?
If any side was in danger of imploding in the competition it was the Bulls who had gone through more coaching disruption after John Mitchell turned his back on them to become part of the England management team. But instead of curling up and crying about it, the Bulls got down to some traditional hard work up front with Springbok Lood de Jager leading the way in the lineouts to give the Stormers a 40-3, four tries to none thrashing. There was a time when the Cape Town outfit could be guaranteed to give most sides a run for their money but not on Saturday. Their defence leaked, especially when Sevens ace Rosko Specman got anywhere near the ball. It could be a tough year for the Stormers unless they can pick up quickly.

THE LIONS ROAR
One of the anomalies in Super Rugby surrounded the inability of the perennial finalists, the Lions, not having managed to secure a win on South American soil before the weekend. And when the Jaguares turned it on in the first quarter it looked possible the Lions record wouldn't change. But then flanker Marnus Schoeman got involved by scoring a hat-trick of tries. The Jaguares didn't help themselves with their Achilles heel showing through – indiscipline. That was a blow for the side which needs to start achieving dominance at home to build on the progress they made last year when winning away, especially in New Zealand.
CHIEFS' CONUNDRUM
So badly do the Chiefs get hit by injury worries, campaign after campaign they are in danger of becoming a case study for medical interests as to why. Already down on their five-eighths going into their opening loss to the Highlanders, they covered that gap with Orbyn Leger playing with comfort and control but then lost lock Brodie Retallick, halfback Brad Weber and fullback Shaun Stevenson during the game. That's also following the late withdrawal of prop Atu Moli who had been named to play but who suffered an elbow injury. At the same time they pushed the Highlanders hard to only go down 27-30 while unleashing some stunning young talent in wings Bailyn Sullivan and Etene Nanai-Seturo. When they get their best unit on the field there could be some fireworks.
ROUND 2? | It's going to be another massive weekend of #SuperRugby, the round kicks off with the @Highlanders hosting @Reds_Rugby in Dunedin. Round one was simply brilliant, what are your predictions for round two? ??#RaiseTheStakes pic.twitter.com/TUgt0z2nrT— Super Rugby (@SuperRugbyNZ) February 17, 2019