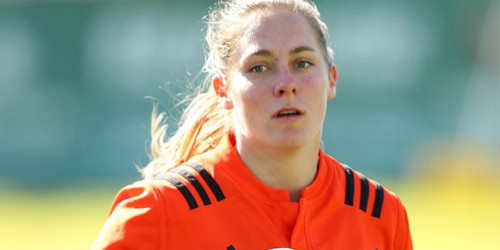 Named on the bench for Saturday's Laurie O'Reilly Memorial Trophy Test against Australia in Sydney she has completed a remarkable road.
Having the desire to want to play rugby, Cottrell, a baker by trade, suffered the misfortune of not being able to play for her province when the women's game struggled to get a team.
---
QUICK TAP: BLACK FERNS V WALLAROOS MATCH PREVIEW
---
She committed herself to playing for neighbouring union Manawatu with whom she had a share of four women's sevens titles.
But in order to play the Farah Palmer Cup season she had to make some big sacrifices.

Swapping the ?? for the ?? Krysten Cottrell shares her story of balancing work as a baker and playing for the @ManawatuRugby Cyclones. pic.twitter.com/GfkLdxy8kC— Black Ferns (@BlackFerns) August 16, 2018
Cottrell was previously a baker, working Monday to Friday starting most mornings around 1am which involved getting up at 12.30am and driving to work where she worked for around eight hours. She would then go home for a couple of hours sleep before making the two-hour drive to Palmerston North, train for an hour and half, and then drive home, have a two-hour nap and get up and go to work again.
It's a routine she followed for five years. But now she is a rugby development officer in Hawke's Bay and things have freed up more for her.
"It was quite taxing on my body but I loved going down there, I learnt heaps and the girls were awesome so it was worth it.
"I'm trying to come back and get the younger girls coming up and aspiring to be where I am at the moment," she said.
Not surprisingly, selection in the 23 for the first Test against the Wallaroos capped a dream of being part of the Black Ferns for some time.
"Being picked earlier on in the year was quite a shock, I didn't think I would be in this environment this year but I've put in the work behind the scenes and been noticed and I'm ready to hit the field and give it my best shot," she said.
While the team prepared and played hard, off the field they were like a family and it was good to come in and feel comfortable with the side.
Now that she was able to commit to rugby full time she was recovering much better and enjoying more sleep.
"It's opened my rugby mind and I'm learning rugby every day," she said.
It's been a much quicker rise for new starter wing Alena Saili from Invercargill.
A member of the Black Ferns Sevens squad said she was excited to have the chance to play XVs with the Black Ferns especially in being able to experience the Australia contest.
She had played XVs from Years nine to 13 at Southland Girls' High School and when contracted for Sevens it was for two years.
"This is my comeback so I'm pretty excited," she said.

??? PREVIEW | Find out all you need to know about the #BlackFerns clash against the Wallaroos for the Laurie O'Reilly Trophy in Sydney on Saturday.

?? https://t.co/FI5VJ0acov pic.twitter.com/nyh65t2NCz— Black Ferns (@BlackFerns) August 16, 2018
Transferring from the Sevens to the Black Ferns environment had been very welcoming and the side had been helpful in finding her way, on and off the field.
Hearing her name read out to start on Saturday had left her buzzing and it took time to sink in.
"Once we go down to the Stadium and actually see it and actually get my jersey it will be real cool."
Filling in for Portia Woodman ensured there would be big shoes to fill but she was hopeful her teammates could provide her with the space so she could finish if off for them.
Saili said playing the game of three halves last week had been helpful in her finding her feet in the XVs game.
"It is quite different to Sevens, getting the game plan and understanding what my job is as a winger, it was pretty good to go out there and play those two teams which was really good for me," she said.
TEAM NAMING | Here is your #BlackFerns team take on @WallaroosRugby in our first Test of 2018

FULL STORY ?? https://t.co/ijBjNdve2a#AUSvNZL #DoubleHeader pic.twitter.com/pcq2dXKn5X— Black Ferns (@BlackFerns) August 15, 2018