Rugby News – New Zealand's oldest rugby magazine – will deliver a host of historical and nostalgic content from the last half century in its birthday issue, on sale from Monday May 4.
Gracing the cover of this collectible edition is Richie McCaw, whom Rugby News names 'The Greatest All Black of the last 50 Years' in an exclusive interview carried out in Christchurch.
Rugby News started life a decade before Richie did, on April 16, 1970. It began as a weekly rugby newspaper before morphing into a full-colour magazine format in the 1980s. When purchased in 2015 by current owners Allied Press (Star Media in 2015), its special editions coincided with the rugby calendar, but in 2020 Rugby News announced an increase to 11 editions a year.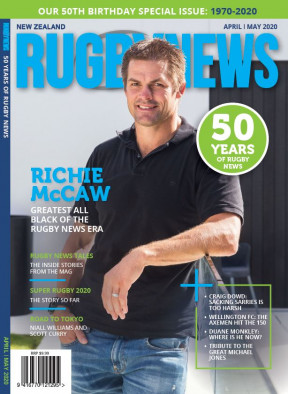 What hasn't changed over the last 50 years is the title's commitment to covering all levels of the game, especially the grassroots. It is a national rugby magazine for the true rugby lover. Most of the nation's top rugby scribes are on board, too, adding to the flavour and integrity of this well-respected rugby mag.
"At Rugby News, we like to think we have the pulse of the rugby nation. We know what rugby readers want, and we work hard to deliver that every month," says editor Campbell Burnes, the ninth since Bob Howitt in 1970.
"Times have changed in the way people consume their rugby, but the solid 100 pages of hard copy reading in every issue is still a good way to spend a couple of hours.
"Reaching the half century is a significant achievement in this day and age, so we are very proud to be blowing out 50 candles on our birthday cake."