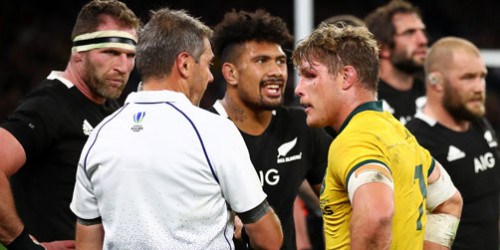 Some of the reaction has been:
The Sunday Times: (Stuart Barnes)
Beaten all black and blue, this was not just a defeat for New Zealand, it was a psychological stuffing of savage proportions…
"In an attempt to restrict any mental damage in New Zealand there will be reminders that Australia beat the All Blacks four years ago, again on the eve of the World Cup. Yet it was Richie McCaw's men who went on to win the World Cup, defeating the Wallabies 34-17 in the final. Ah, but this was different; so seismically different that I am prepared to write off the chances of the three-time world champions, still the bookmakers' favourites to make four….
"Even before the defeat in Western Australia I had a list of reasons why this will not be New Zealand's year. The 2011 and 2015 sides were settled. This side is not. In midfield Ma'a Nonu and Conrad Smith kept a grip on the game in a way various Kiwi combinations have failed to do this season or against South Africa last season.
"In the back row there was Jerome Kaino, [Richie] McCaw and Kieran Read, the best, 6, 7 and 8 in the world. Kaino and McCaw are absent. Captain Read has lost that thrilling wide-channel try-scoring and creating game that was his trademark. McCaw was coming to the end in 2015, Read might just have started his descent too early…
"The balance that carried them to the past two World Cups has been either forgotten or ditched. Where once there was continuity there is now confusion, where once there was confidence there are question marks. No, New Zealand will not win the World Cup and there is no need for even an exclamation mark."
The Rugby Paper:
"Australia thoroughly deserved their victory and the All Blacks looked a pale version of their usual dominant selves having already huffed and puffed against Argentina and South Africa.
"This win and performance also takes the heat off head coach [Michael] Cheika while his All Blacks counterpart Steve Hansen is left with major selection problems just a month before hoping to guide his country to a third Webb Ellis Cup success in a row.
"His 99th Test saw the Bledisloe Cup slip back into Aussie hands [sic] for the first time in 16 years."
The Australian:
"…Have Australia ever played a better half of rugby against the All Blacks than they did in the second half. They were smashing it up on either side of the ruck, going forward up the middle channel, instead of mindlessly going wide, wide, wide.
"The backs were making clever use of lines and the All Blacks' much-vaunted defensive pattern was starting to yield line breaks in ever-increasing numbers…
"No one is deluding themselves that it gets any easier from here. The All Blacks will be ferocious in their intensity next Saturday at Eden Park. If they lost there, as they did in Perth, their 17-year Bledisloe Cup domination is over.
"For the moment, however, rugby can rejoice in once again being restored as a topic for polite conversation. It had become one of the unmentionables, alongside religion and politics. In fact it had become a shorthand, if vexed, way of establishing how people felt on both those subjects."
The Sydney Morning Herald:
"Thumping the All Blacks on home soil may have been an incredibly satisfying achievement but the Wallabies are bracing for a completely 'different beast' when they try to do what no Australian team has done at Test level for 33 years: win at Eden Park.
"Now the dust has settled on a 47-26 victory over the All Blacks in Perth and the shock of Saturday's emphatic victory has sunk in, attention has quickly turned to ensuring the group does everything they can to get their hands on the Bledisloe Cup for the first time in 17 years.
"There was a fine balance between savouring one of the greatest Wallabies wins in recent years – just their third against New Zealand from the last 22 attempts – and not getting carried away before a return clash in Auckland which will focus the attention of the rugby world."