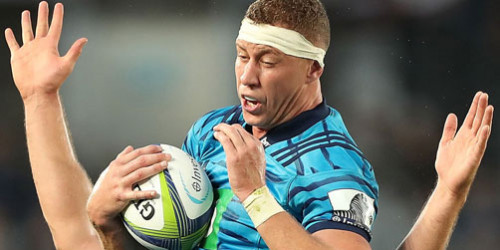 Having suffered more than 12 months out of the game from as early as round three last year as the result of a hyper-extension of his knee causing severe damage to his ACL and LCL, while also ripping tendon off the bone, he has been battling to break back into the Blues starting 23.
"I haven't been able to get stuck into the team. It's been challenging, the boys have been playing well. My body is all good, my knee is sweet as now and I'm just trying to get some back-to-back games now with the boys," he said.
The three preferred locks, Patrick Tuipulotu, Josh Goodhue and Gerard Cowley-Tuioti had been playing well and he hadn't been able to force his way into consideration.
"I got a bit of a sniff on Friday when one of the boys [Goodhue] got a bit of a head knock so I got a bit more than probably planned but it was good fun to just get out there and play," he said.
While waiting his chance was a case of being full on at practise and afterwards working with the trainers.
"It's been frustrating, I feel like I've been ready for a while and I've just been waiting for my turn to have a crack but my mates are playing and they've been going really well so hats off to them because they've put their hands up and they got the first crack, so it's just been a bit of a patience game.
Scrafton relished the chance to get on the field last week.
"I hope I did enough to put my hand up and let them know that I'm ready and ready to compete," he said.
That proved the case as he has been included in the starting XV for Saturday's game with the Chiefs and he's looking on building on last week's play.
"It was awesome, I was gassed but it was awesome to play and bang some bodies and get amongst everyone.
"Obviously as a side we didn't get the result we were after, we haven't been quite clinical at moments and the 'Canes with some of the best players in the world just managed to sneak a few over us which hurt us in the end, but that's footy for you.
"We were applying the pressure and I felt like we were getting it over them, personally I didn't think we got the rub of the green with the referee but that's the way things go but we couldn't quite turn that pressure into points. And that's probably what cost us the result," he said.