PREMIERSHIP
Waikato
2021 Record: 5-1 (Premiership Winners)
Brief: The reigning champions have assembled a powerful squad led by Black Ferns and experienced Waikato players, Renee Holmes and Kennedy Simon. Both players have a combined total of 46 games for the province.
The squad features nine international players, that includes eight 2021 Black Ferns squad members. They are Ariana Bayler, Carla Hohepa, Renee Holmes, Grace Houpapa-Barrett, Tanya Kalounivale, Cheyelle Robins-Reti, Chelsea Semple and Kennedy Simon. Fijiana international Jade Coates also features.
There are 26 players from the 2021 squad and 11 rookies to keep things fresh. Some of the new players include Hamilton Marist's Princess Elliot and University player Finau Mafi. Wayne Maxwell who coached Waikato between 2012 and 2019 replaces James Semple as head coach.
Player to Watch: The composition of the best Black Ferns front row is not entirely clear, despite encouraging form from the likes of Angel Mulu and Amy Rule. In 2017 when the Black Ferns won the World Cup, Toka Natua was the queen of propping. She scored a hat-trick in the final and was awarded with a professional contract. She has battled a number of injuries since that landmark performance, but with 33 games for Waikato and genuine competition for her place within the Waikato team, it might bring out the best in Natua.
Canterbury
2021 Record: 7-1 (Second in Premiership)
Brief: Canterbury have won 27 of their last 28 games and are absolutely stacked with a dozen current or former Black Ferns. Kendra Cocksedge, the most capped Black Fern of all-time, holds every Canterbury scoring record. Chelsea Bremner hasn't lost in 35 appearances and her sister Alana will captain the team.
Even without their Black Ferns, Canterbury has a sturdy roster. Charntay Poko (a New Zealand league representative) returns to Canterbury for the first time since 2017, eager to add to her 33 caps. Emma Dermody is a tough and mobile lock who grew in stature last year. Kelsyn McCook, a promising halfback who played for Taranaki as a school girl, has relocated to Christchurch and is tipped for big things.
Player to Watch: Jorja Miller will join the side from the Black Ferns Sevens set-up. A product of Christchurch Girls' High School, National Top Four finalists in 2019, Miller was a sensation in 2021 being awarded the Patterson Cup for Most Promising Canterbury Women's Player. The loose forward topped the tackle count in the FPC final.
Wellington Pride
2021 Record: 3-3 (Third in Premiership)
Brief: Wellington stretched both Canterbury and Waikato to the limit last season, suffering last-play try defeats in each fixture. Improved fitness was a major factor in more competitive displays. Despite a senior club competition plagued by defaults, Wellington have the size in the forwards and dynamic individuals out wide to threaten.
Jackie Patea-Fereti will lead the pack which includes new Black Ferns prop Angel Mulu and lock Joanah Ngan-Woo. Hooker Te Kura Ngata-Aerengmate and Hosanna Aumua, sister of All Black Asafo Aumua, are quality additions.
The midfield looks strong with Black Fern Monica Tagoai likely to partner Georgia Daals. Ayesha Leti-I'iga has scored 51 tries in 38 games for Wellington, and was on fire for the Black Ferns in the Pacific Four series.
Player to Watch: Thamsyn Newton won the Erin Rush Medal as the best and fairest player in Wellington Club Rugby in 2021. A gifted attacking, goal-kicking fullback she has made 22 appearances in Wellington Club Rugby and scored 277 points, including 37 tries. For Wellington she has scored 66 points in ten games.
Auckland Storm
2021 Record: 3-1 (Fourth in Premiership)
Brief: Auckland are the most frequent winners of the FPC with 15 Premiership titles. They were unable to finish a full itinerary due to Covid in 2021 but are simmering nicely.
The forwards will be typically big and athletic with 46-Test Black Ferns lock Eloise Blackwell a likely leader with a point to prove. Remarkably Tafito Lafaele, Patricia Maliepo, Maiakawanakaulani Roos, Sylvia Brunt and Liana Mikaele-Tu'u have only played a combined tally 59 games for the Storm, yet all are Black Ferns aged 22 or less. Their talent potentially represents a large slice of the future.
Kiritapu Demant makes a welcome return after a couple of seasons off due to work commitments. The former Black Fern is sister of current Black Ferns captain Ruahei Demant, who also joins the squad. Marist back Abby Lockhart is another earmarked for big things as is Katelyn Vaha'akolo who scored 16 tries in the Coleman Shield and played in the women's NRL for the Newcastle Knights. Her brother is Otago wing Freedom Vaha'akolo.
Player to Watch: Mele Hufanga is a powerful centre who has scored 39 tries in 45 first class matches, and scored 16 tries for Mairst in their Coleman Shield success this year. She has been in the Black Ferns frame several times in the past decade. She played for the Blues during Super Rugby Aupiki.
Counties Manukau Heat
2021 Record: 2-3 (Fifth in Premiership)
Brief: Counties were semifinalists every year between 2015 and 2019, winning the Premiership in 2016. They have a settled squad with only four new caps. With Black Ferns, Hazel Tubic, Leilani Perese, Ruby Tui and Arihiana Marino-Tauhinu in the roster as well, the Heat should be fiercely competitive.
Counties always have plenty of size and fight in the forwards. Sisters Glory and Jacqui Aiono can be wrecking balls and vice captain Ti Tauasosi is a hard running loose forward. Centre Shyanne Thompson captains the side and Ardmore Marist flyer Emily Kitson is an exciting counter-attacking fullback.
Player to Watch: Winger Langi Veainu started girls rugby at Wesley College. She was a Black Ferns wing in 2020, her progress derailed by concussion. She resurfaced for Chiefs Manawa in Aupiki, scoring a cracking try in the 35-0 demolition of the Blues.
Bay of Plenty Volcanix
2021 Record: 1-5 (Sixth in Premiership)
Brief: Bay of Plenty are represented by 38 players and seven different clubs. Natalie Delamere, Luka Connor, Kendra Reynolds, Les Elder, Renee Wickliffe, Kelsie Wills, and Pia Tapsell are all Black Ferns. The Volcanix have lost Black Ferns prop Angel Mulu who is playing for the Wellington Pride.
Rangiuru won the local senior club championship and Santo Taumata, Sapphire Williams and Te Urupounamu McGarvey are all rewarded for their form in that competition with places.
Kalyn Takitimu-Cook has caught the eye of Black Ferns Sevens selectors, while the coaching duo of Brent and Crystal Kaua bring professional experience from Japan. They turned Hamilton Girls' High School into a national powerhouse.
Player to Watch: Les Elder. She's looking to regain her place in the Black Ferns squad before the World Cup. She is a leader and a workhorse, but can she find another level to force her way back into the national team? Bay of Plenty won't necessarily have the size of other packs, but they will be fit and mobile.
Manawatū Cyclones
2021 Record: 6-1 (First in Championship)
Brief: Manawatū cleaned up the championship in 2021 winning all six matches and outscoring opponents 328-48. It was a shame an excellent combination wasn't able to test itself against stronger opposition. This season will be an emotional one for the Cyclones in the Premiership as they play in the memory of Ashleigh Knight who passed away last December. Ashleigh played 19 games for Manawatū between 2017 and 2021.
The majority of the roster returns with co-captains Selica Winiata and Rachael Rakatau providing sound leadership. Sosoli Talawadua is back after having a baby. The former Black Fern is comfortable at hooker or prop. Manawatū will have power up front with sisters Mele and Ngano Tavake, a combative duo. Janna Vaughan, a former Black Ferns wing, topped the 2021 competition for most tries, metres run, defenders beaten and clean breaks. Winiata has scored more tries for any province (72 in 90 games) than any other player in the country.
Player to Watch: Carys Dallinger broke the Manawatū record for most conversions in a season, slotting 30 in 2021. The first five-eighth has played 22 games and besides excellent kicking, isn't afraid to take the ball to the line, and has good footwork from her experience in sevens. She has been to Black Ferns camps and played for Ngalingali in the recent trial.
CHAMPIONSHIP
Otago Spirit
2021 Record: 0-6 (Seventh in Premiership)
Brief: Dunedin Wāhine Sharks won the Otago Premier title, a trophy typically dominated by University and Alhambra Union. Oceana Campbell, who scored two tries in the Dunedin Premier Club final, and Atawhai Hotene are among the outstanding Sharks rewarded with a place in the Spirit.
Tegan Hollows and Julia Gorinski have been named as co-captains of the Spirit. The pair have played 91 games between them. Maia Joseph, daughter of All Black Jamie Joseph, is an emerging talent in a side that is young and rebuilding after a difficult 2021.
Player to Watch: Victoria Subritzky-Nafatali played 19 tests for the Black Ferns from 2012 to 2017, a standout in the 41-32 World Cup Final win against England. Her first class career started at Otago where she made 26 appearances between 2007 and 2014. She then played for Counties Manukau when they won the FPC in 2016. Between 2019 and 2021 she was pivotal in the revival of Northland. The talented first five-eighth has a bundle of experience and talent.
Hawke's Bay Tui
2021 Record: 4-3 (Second in Championship)
Brief: The Tui used 28 players last year, 11 of whom debuted. This year they have a more settled line-up with halfback Emma Jensen, the most capped first class player in the country with 183 games, set to trot out again.
On the opposite end of the age scale outside back Harmony Kautai and No 8 Kathleen Brown are two to watch. In 2021 the former scored seven tries in as many games while Brown earned Super Rugby Aupiki honours with the Hurricanes Poua. The Tui will get good value out of forwards Nina Pineaha and Lara Kendrick.
Player to Watch: Captain Krysten Cottrell played five tests for the Black Ferns at first five-eighth in 2018. She was the top points scorer across both divisions in 2021, and resumes a long-standing partnership with Emma Jensen.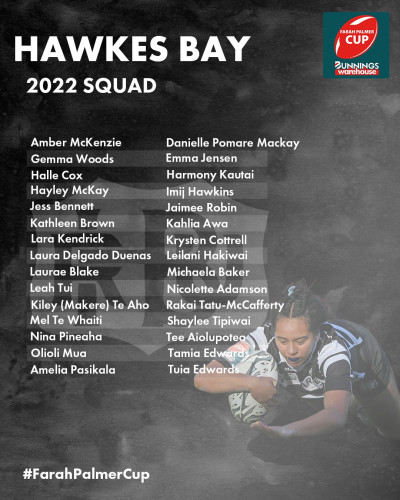 Northland Kauri
2021 Record: 3-2 (Third in Championship)
Brief: Northland have made big strides since rejoining the competition in 2019, winning a respectable 11 of 18 games. Goal-kicking prop Krystal Murray will bring recent Test experience, but Aroha Savage, Portia Woodman and Victoria Subritzky-Nafatali are all unfortunately lost to the Kauri.
Northland has established an improving and growing high performance set-up that has allowed the province to retain pioneering talent like Tyler Nankivell and Alisha Proctor.
Tara Turner is a rookie first five-eighth to watch. She has played age-group touch and sevens for New Zealand. From a family of nine, in 2020, she received the Tania Dalton Foundation scholarship which Black Ferns Patricia Maliepo and Amy Rule have also received.
Player to Watch: In June 2020 loose forward Charmaine Smith retired from all rugby with a neck injury. The Whangārei Police constable has recovered strongly and launched an unlikely comeback this year featuring for the Rana Paraha Trophy winning Hora Hora. Smith played for Ngalingali in the recent Black Ferns trial as she scrambles against time to reclaim her black jersey. Smith produced her best season in 2017 starting every Test and scoring a try against England in the World Cup final.
North Harbour Hibiscus
2021 Record: 2-2 (Fourth in Championship)
Taranaki Whio
2021 Record: 1-4 (Fifth in Championship)
Brief: Taranaki have had a disruptive preparation with 2021 Black Ferns selection Iritana Hohaia out of action this season. The halfback joins loose forward Tiana Davison, last year's captain Chelsea Fowler, halfback Kelsyn McCook, Sammie Bean and Ashlyn Pescini in a group of departing talent.
A young squad features 10 potential debutants but the team's most capped player Victoria McCulloch is back along with 17 year old Clifton prospect, Keighly Simpson and the Neilson sisters, Paige and Brooke.
Megan Cloke hasn't played a first-class match since 2013 but returns alongside midfield back Danielle Muggeridge who has recovered from concussion.
The team is coached by former English international Latoya Mason.
Player to Watch: Victoria McCulloch made her debut for Taranaki in 2013 and has amassed more games (27) for her Union than any other player. McCulloch is a good lineout and kick off option. She has the speed and size to cover loose forward.
Tasman Mako
2021 Record: 0-5 (Sixth in Championship)
Brief: Tasman haven't won a game for two seasons but there is genuine optimism the Mako can break their duck with a raw and exciting squad. Tasman has a bundle of versatile loose forwards to choose from with young Jess Harvie, American import Tahila Brody, and Manu Sina international Sui Pauaraisa headliners. Fai Auimatagi has relocated from Wellington, the bustling hooker a regular starter for the Pride in 2021.
Hannah Kelly is captain, the lively halfback and likely to partner first five-eighth Cassie Siataga with her prodigious boot.
The Mako are coached by former Black Ferns prop Mel Bosman (twice a World Cup winner) and former New Zealand Development Sevens player Rebecca Kersten.
Player to Watch: Tamara Silcock has played every one of the 29 games Tasman have played since they joined the FPC in 2017. The tough and durable flanker is a leader and workhorse hoping to drive Tasman into the Championship semi-finals for the first time since 2019.
Catch all Farah Palmer Cup matches live and exclusive on Sky Sport in 2022. Entry to all Farah Palmer Cup games is free on the opening weekend.