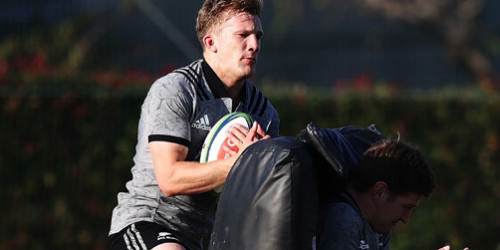 Having had a taste of what was to come in last weekend's game against England fullback Damian McKenzie said they were expecting more aerial tests from Ireland, especially as their kicking was a strength of their game.
"We see it as a strength of ours as well so if we can nullify that I think we'll be right," he said.
Every high ball sent his way was always an opportunity to look to counter attack.
"A lot of the time it is contested so getting up and taking that high ball is obviously the key for a start, then if we get an opportunity to counter we'll make the most of that as well," he said.
Fielding the high ball was something that had always been a demand of his game.
Playing at first five-eighths he tended to be in the back field as well so coping with high kicks had been a constant requirement of his game but since doing more specialisation at fullback he admitted to putting more emphasis on his fielding of high balls.
There had been concern expressed by the Irish over Wayne Barnes' refereeing but the All Blacks' approach was not focused on how a particular referee might control the game. Rather it was about the internal disciplines within the side of being aware of the offside line and what Ireland might bring.
While there was a natural inclination for New Zealand players to be excited when having the ball to run with there was also a need to be prepared to enjoy the demands of coping when not having the ball.
"We've got to be excited about that sort of stuff and, again, when we get the ball we've got to be excited about that as well," McKenzie said.
"We've got to make sure we can each, individually, find the way to flick the switch to bring the energy and bring that excitement."
McKenzie said while he enjoyed attacking rugby he realised it was about getting a good balance between doing the right things and making the right decisions and he was getting support in finding that from the players around him.
"For me it's just trying to grow as a player each week," he said.
Being back at fullback was enjoyable because of the extra space available. Working as a second driver, either with Beauden Barrett or Richie Mo'unga, was about trying to keep the opposition guessing a little.
Goodhue said he and second five-eighths Ryan Crotty, who was starting in Sonny Bill Williams' absence through injury, had developed their combination through two years of Super Rugby with the Crusaders and Crotty's communication skills were great while his work rate complemented Goodhue's game.
Having been coached by former Ireland and British & Irish Lions player Ronan O'Gara, Goodhue said O'Gara had brought his enthusiasm and some aspects of northern hemisphere defensive tactics to the Crusaders. He had taught him a lot and he, Richie Mo'unga and Crotty all appreciated the work he had done with them, he said.