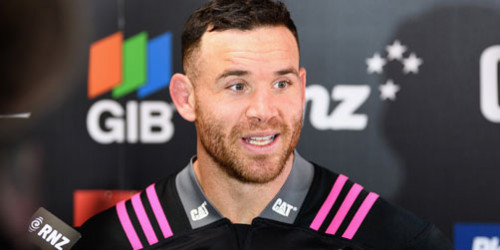 Crotty said: "I don't know how many times we have played each other over the years but they are always massive, tough games.
"This weekend is going to be no different, it will be tough, it will be physical. Both teams will throw shots, and the team that puts it in for 80 will get the result. It's going to be a tough challenge but one the guys are excited for.
"They do a lot of things really, really well, and they will back their game and what they do well and it will be just about us nailing our stuff, our system, and if we do that then we usually give ourselves a good chance," he said.
As has always been the case in recent seasons, Hurricanes first five-eighths Beauden Barrett occupied much of the thinking of Crusaders fans ahead of the games. But it wasn't only about Barrett, Crotty said.
Wise words from Razor! Will you be at the @crusadersrugby v @Hurricanesrugby semifinal on Saturday?

TICKETS ?? https://t.co/RTkDlNmprR pic.twitter.com/Va08UIaMmD— Super Rugby (@SuperRugbyNZ) June 24, 2019
"He's a world-class player, simple as that, and they've got quite a few of them across the park. They've got quality game breakers, x-factor right across the park. Yes, we have to prepare very well for Beauden, he's a high quality player and he's got a lot of guys around him that are very good players as well so we are going to have our work cut out for us.
"So that creates a big of edge around the way you prepare, as well.
"We're always diligent when we prepare for these guys because we know just how dangerous they are. That's what a lot of this morning [Tuesday] was about – getting our game plan and our plays, getting our clarity on that and also having a look at their stuff and making sure we're prepared for what's coming," he said.
While there were lessons that could be learned from previous finals campaigns, everyone was different in how they viewed that, but Crotty said the most obvious thing was helping younger players who hadn't been involved previously through the buildup.
But in most cases they had prepared well all year and the finals were an extension of that.
Crotty said he felt the Crusaders' forward pack had grown even more in stature over the last few weeks, they had been outstanding against the Highlanders and they would be set to front again this weekend. The side's defence had also set the tone for them.
"Both teams on Saturday will be looking to create quick ball to attack with, it's just can we get our defensive structures well enough to get double shoulders into tackles and slow ball down? That's footy, they'll be trying to get quick ball and so will we," he said.
2?0?1?9? STATS | @crusadersrugby v @Hurricanesrugby.

Who will have the edge on Saturday night? ??#RaiseTheStakes #CRUvHUR pic.twitter.com/xGr5VgBINq— Super Rugby (@SuperRugbyNZ) June 24, 2019