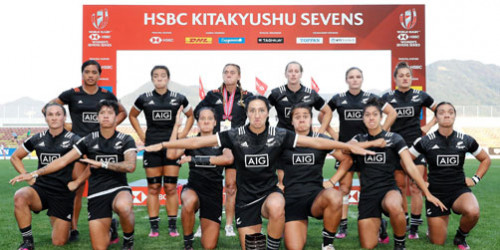 New Zealand won 24-12 against a French side who reflected the typical qualities of their country in coming back from a 38-7 drubbing by the Sevens Sisters in pool play.
---
QUICK TAP: NZ UNDER 18 SEVENS REIGN SUPREME IN SYDNEY
---
Winning captain Sarah Goss said the last fortnight had been 'absolutely amazing'.
They had spent a lot of time together and had come through some upsets when losing players from the squad.
"We've just won back-to-back golds so we can't get a better month than what we've just been through," she said.
Time together had been the main reason they had been able to turn around their disappointments at the Dubai and Sydney tournaments. It was the first time they had more than a week in preparation and that had paid off.
"It's the way the girls are, they've trained the house down and when they've got into tournament mode they've just worried about themselves and we've been able to show mana and heart out there and that's all we can ask of this team.
She said they had been disappointed with the way they had started the season but they had to finish strong if they wanted to get the series title back.
"The way we're going at the moment, the more time we spend together the better off we're going to be for the Canada leg."

It's tight at the top as @Aussie7s lead @blackferns by just six points with two rounds left on the #HSBC7s pic.twitter.com/yhtFOkT2vd— World Rugby Sevens (@WorldRugby7s) April 22, 2018
The competition was extremely tight as was seen from the number of upsets on the first day of the tournament.
"Having to play Aussie in a semifinal was a bit different but it makes Sevens and it means Sevens is getting stronger. Every team is working really hard to want to perform in those finals and I'm just stoked that we were able to come away with that win as well."
Coach Allan Bunting said the side always wanted to do well but to perform so well at the Commonwealth Games last week and then to follow up with the win in Japan was 'pretty special'.
"I think the last couple of weeks we have done a lot of learning and growing and we have got some really good foundations in our programme and those foundations are building towards Tokyo [2020 Olympic Games] which is great.
"It is great for the game [to see other teams challenging]. These teams spend a lot of time working really hard and trying to get better and to see teams progress a little bit further is great for the game and it just shows that you have got to do well every game, you can't go to sleep at all because every team is after you.
"Some of the teams did really well, especially Spain, and it's good to see China on the series and they did really well also," he said.
The next tournament takes place in Langford, Canada from May 12-13.

Thank you to everyone for all your support this weekend, both here in Kitakyushu and back home!

Next stop: Langford, Canada ????
May 12 & 13 ??? pic.twitter.com/88cfvhPtz2— Black Ferns (@BlackFerns) April 22, 2018