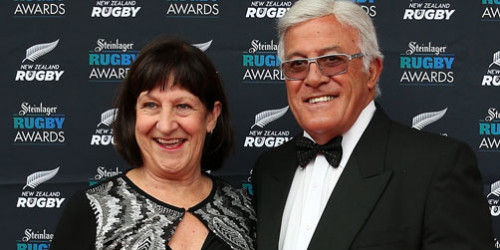 His award follows the MBE he received in 1983 and the Companion of the New Zealand Order of Merit received in 2013.
The player who burst upon the scene in dynamic fashion as a teenager on the 1970 All Blacks' tour of South Africa became a household name for his dazzling play on the rugby fields of the Republic - the first NZ tour covered extensively by television.
He was one of four non-European players in the All Blacks team who were allowed to make the tour after New Zealand had insisted in 1967 on a policy of 'No Maoris, No Tour'.
But apart from crashing through that barrier in the same way he broke up South African defences, he paved the way for the emergence of players with Pacific Island heritage to reflect the changing social face of New Zealand and to make their own contribution to the advancement of the game.
Williams was one of the finest wings in the world in his heyday but rarely had the chance to play as freely as on that 1970 tour. It was typical that one of the key scores in New Zealand's solitary win, 22-12 against the 1971 British & Irish Lions, came when he was tackled without the ball by Gerald Davies resulting in the awarding of a penalty try.
He toured South Africa again in 1976 and it was in France in 1977 that a horrific hip injury looked to have ended his career, however, he came back and made the tour to Britain and Ireland in 1978 before ending his international career.
Williams played 38 Tests among his 113 appearances for the All Blacks. He also played 132 times for Auckland between 1969-82.
He later coached Auckland and the Hurricanes in New Zealand and Samoa on the international stage.
In 2011 he was elected President of New Zealand Rugby.
He has continued his playing and coaching association with Auckland's Ponsonby Rugby Club by serving as its director of Rugby from 2000-15.