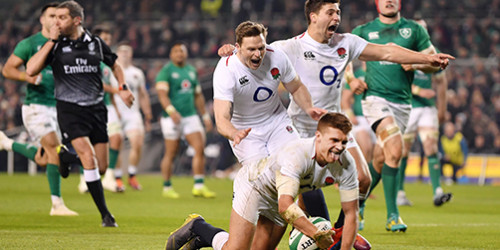 In their first match of the Six Nations they failed, folding spectacularly under the weight of expectation, thumped 32-20 by England with the final score flattering Ireland.
---
QUICK TAP: BLACK FERNS SEVENS CONTINUE REMARKABLE RUN
---
The Irish media called it a humiliating defeat and veteran match commentator Michael Corcoran told me it was a bafflingly poor performance.
He thinks the Six Nations is now a competition between England and Wales and that it could be decided when they meet in Cardiff in round three.
On the flip side, England are on the rise and will be increasing talked up as World Cup contenders - with the requisite suggestion that the gap to the All Blacks has disappeared.
The reality is very little has changed with the first round of the Six Nations.
It's not a surprise England won. They are a decent team. The manner and margin is the only surprise especially as Ireland dominated many of the game stats expect the only one that really matters, the score.
They had more ball than England - 52 percent in the first half and 67 per cent in the second; their four penalties were half England's and they missed only 13 tackles to England's 28.
It shows yet again that in the modern era it's not how much ball you have but what you do with it.
It's not really a surprise Ireland struggled with the weight of expectation. Being fancied is unfamiliar. Ireland are at their best when they're dismissed, written off, cast as the underdog.
It's equally not a surprise that France were superb for 40 minutes then dreadful in the second half, or that Wales somehow conjured a win from a poor performance.

??? OPINION | Former @EnglandRugby coach Clive Woodward picking a massive clash of the hemispheres at #RWC2019.

READ ?? https://t.co/ZpUotxAYZa pic.twitter.com/TUVD5gYZs5— All Blacks (@AllBlacks) January 29, 2019
They've won 10 tests on the trot and as their Kiwi coach Warren Gatland quipped after the game, Wales don't know how to lose and France have forgotten how to win.
Equally unsurpising was Scotland's win against Italy who have been making up the numbers since they increased the Five Nations to six.
Scotland are a good team but there might be concern about how they let in three tries in the final nine minutes. What does that say about their fitness? Or did they simply ease off because the game was won?
In Dublin, England were superb, with the pack, anchored by the almost tireless prop Mako Vunipola, laying the platform for Owen Farrell to drive his side around the park.
Outside him Manu Tuilagi and Henry Slade combined nicely in the midfield, Tuilagi again showing the benefits of having a powerful, straight running second five.
Rugby has changed over the years but what remains indisputable is that it's an easy game to play with front foot ball. Tuilagi and England's pack provided that.
---
QUICK TAP: NINETEEN THINGS TO LOOK FORWARD TO IN 2019
---
So does the first round mean Ireland's bubble has burst? Not really. They were always a chance to lose in the Six Nations. It's how they respond to this defeat against Scotland next week that will provide a better World Cup pointer.
Can they adapt to being expected to win every week - a pressure the All Blacks live with week in and out.
Are England suddenly World Cup favourites? No more than they already were. They are a serious contender.
The opening round of Six Nations rugby confirmed for me that this year's World Cup in Japan is the most wide open in the tournament's history.
Any of New Zealand, South Africa, Ireland, Wales and England are quite capable of winning it; while France and Australia are outside chances.
And before you remind me that the Wallabies are a shambles, just remember, that was the case four years ago too - and they lost in the final!
Scotland and Argentina probably won't be able to string enough top drawer performances together to win the Cup, but they will upset at least one of the more fancied teams.
As for the Six Nations, it's still a four-team competition at least but Ireland are no longer the hot favourites they were.
Think you know all there is to know about the All Blacks? Check out our list of 10 unique All Blacks facts and become ultra-armed for any rugby quiz!

READ ???? https://t.co/RRlXKZO10F pic.twitter.com/9N7ja0o1Pr— All Blacks (@AllBlacks) January 13, 2019