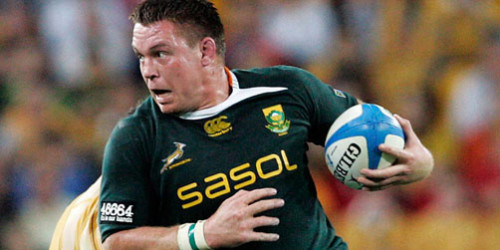 Smit told SARugby.com that his side's fate was in its own hands.
It needs one more point to claim the title it last held in 2004 while the All Blacks must win both their last two matches and also claim a bonus point.
Smit, who came under intense scrummaging pressure in his tighthead role against the Australians in Brisbane on Saturday, said the Wallabies had been deserving winners of the match.
"We knew they were going to be firing," he said.
"No-one loses four on the trot and just rocks up. They were always going to be far more formidable this weekend and we still have our own fate in our hands.
"Rest assured, the guys will be fired up for the final game in Hamilton."
Smit said the Springboks' intensity had not been what it should have been.
"It's hard to pinpoint why, but it was a game where we had moments of brilliance but we just couldn't put it together enough to create that pressure," he said.
Smit said the Australians had beaten South Africa at their own game.
He said the South African plan remained the same, and that was to gain an advantage through kick and chase but that required accuracy to avoid losing the ball.
And because the accuracy wasn't there against Australia, the Wallabies had been able to capitalise on that.
The South Africans have found Suncorp Stadium a bogey stadium and have not won in Brisbane since 1971 and they have been tryless at the venue in the last four Tests.