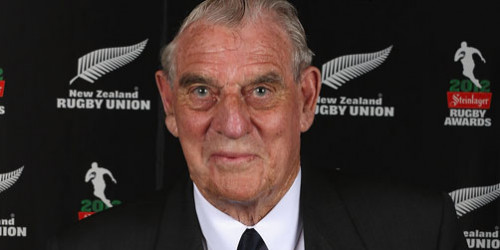 Raymond Aubrey Ian Harper QSM, QSO, born July 17, 1927,Invercargill, died April 4, 2019, Invercargill.
Southland rugby identity Ray Harper was a typical product of his rugby generation marking a commitment to the game firstly as a player, but then as a coach and administrator.
It was in the latter regard that he scaled rugby's heights serving 11 years on the New Zealand Rugby Union Council from 1975-86. During that time he was manager of the All Blacks who toured Australia and Wales in 1980.
The Wales tour was to celebrate the Wales Rugby Union's centenary and resulted in one of the famous All Blacks victories when Graham Mourie's side, coached by Harper's great southern friend Eric Watson of Otago, beat Wales 23–3 at Cardiff Arms Park.
But it was on the Southland turf that he defended so determinedly that he made his mark, firstly as a player for his Pirates club in Invercargill but then in 44 games for Southland between 1948 and 1954. That included international games against Australian sides and the 1950 British & Irish Lions.
After his playing career, Harper turned to coaching between 1962-67 and his sides recorded wins over the 1962 Australian tourists and the 1966 British & Irish Lions in the first New Zealand game of their Australasian tour. He moved into administration with the Southland Rugby Football Union serving on its management committee from 1965 until 1986. He was vice-president of the SRFU from 1976-1980.
His influence was not confined to rugby in the southern community as he took a lead role in the development of the indoor sports complex which included New Zealand's first cycling velodrome and alongside the home venue for the highly-rated Southern Sting netball side which won several national titles.
He was twice honoured in the New Zealand honours list for his services to the community and rugby and in 2012 he received New Zealand Rugby's Steinlager Salver for his service to rugby.