It is a far cry from sitting at the back of a wardrobe in Tauranga where they had been up until last week.
Liam Barry, Assistant Coach of the All Blacks Sevens, presented his, his father's and grandfather's All Blacks jerseys to the Museum, the only three-generation All Blacks family in history.
All three Barry's were loose forwards, with Ned making his debut in Australia in 1932. Ned Barry played 10 matches in the black jersey, his son Kevin went on to play 23 matches, with his debut also across the ditch in 1962.
Fast forward almost 30 years and Liam donned the black jersey as a 22-year-old in England on debut in 1993. Liam played a total of 10 matches across three seasons before heading to play professional rugby in Japan.
Liam said his mum, Justine, had given the jerseys to him and he thought gifting them to the Museum would be much better than hiding them away in a wardrobe. His father was formerly a member of the New Zealand Rugby Museum.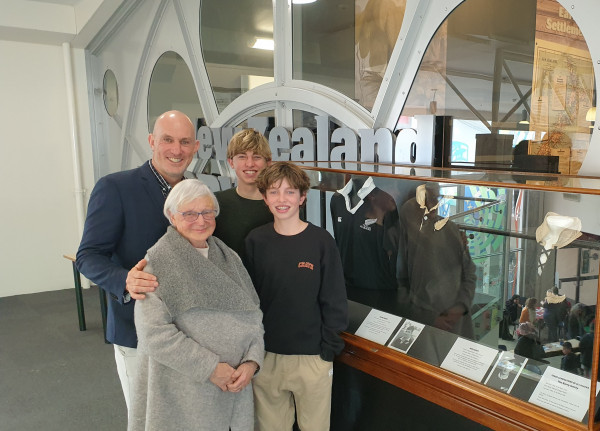 "I had visited the museum a couple of times and knew if we gave them the jerseys, they would do them justice and they certainly have."
Accompanied by his mum and sons Nathaniel and Isaiah, Liam said it was a special day for the family.
"We probably take it for granted a bit (the family's All Black history), because we are around rugby all the time and talk footy a lot, but the boys got a kick out of it.
"While they are surrounded by rugby, I never talk about my playing days, and my dad didn't really talk about his either, so it was special to reminisce a bit."
The jerseys are now carefully displayed in the museum and perfectly demonstrate the development of the All Blacks jersey.
With 19 sets of father-son All Blacks, Barry believes another family will join his in the history books but it's likely to be some time before we see it again.