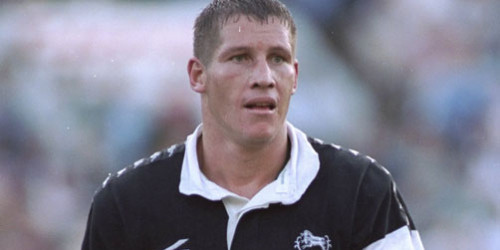 He will be remembered in rugby folklore as the player who had to contain the colossus on the opposite wing who was Jonah Lomu – the star of the 1995 World Cup in South Africa who had been unstoppable against other sides.
---
QUICK TAP: SPRINGBOKS HAVE THE FORWARDS TO WIN THE WORLD CUP
---
But Lomu went scoreless in the final and a large part of that was due to the way Small contained him, along with halfback Joost van der Westhuizen and centre Japie Mulder.
The 50-year-old had been one of the characters of the side, a tough nut on the field but regarded warmly off the park by teammates and opponents alike.
The rugby world reacted with messages of sympathy, including from the All Blacks, flooding in from all quarters.
Small played 47 Tests, scored 20 tries, and forged an early connection with the All Blacks when playing his debut Test in the 1992 one-off game that marked South Africa's return from the isolation enforced due to the government's apartheid policies.
He continued to play until 1997 scoring two tries in his final Test, a 68-10 win over Scotland.
The All Blacks sent a message of sympathy: "We are saddened to learn that Springboks great and 1995 Rugby World Cup winner James Small has passed away. A fierce competitor on the field and a great friend off it, James will be missed by the entire global rugby community. Rest in Peace, legend."
We are saddened to hear of the passing of @Springboks legend James Small, a member of their historic #RWC1995 winning side.

Rest in peace ?? pic.twitter.com/5kcfWtZQ9X— Rugby World Cup (@rugbyworldcup) July 10, 2019
A player who employed verbal tactics on the field, and who often had run-ins with referees, Small was the first Springbok to be sent off in a Test, for dissent, by England referee Ed Morrison during a Test in Australia in 1992.
Leading South African referee Jonathan Kaplan tweeted after learning of his death, "I'm shocked and very saddened to hear about James Small. Not the easiest oke to ref on the field by one of the kindest off it. Amazing self believe and always keen to challenge, it's probably what made him special. A hero, a great Bok, a friend…RIP Bro. You made the most of life!"
The president of South Africa Rugby, Mark Alexander said: "James, as a member of the triumphant Rugby World Cup squad from 1995, will always have a special place in the hearts and minds of the South African public and we were devastated to hear of his passing.
"He always played with the type of passion and courage that encapsulate what Springbok rugby stands for, and he lived his life the same way.
"At 50-years-old, James Small died too young. Our thoughts and condolences are with his family and friends during this very sad time," he said.
We are saddened to learn that @Springboks great and 1995 @rugbyworldcup winner James Small has passed away. A fierce competitor on the field and great friend off it, James will be missed by the entire global rugby community.

Rest In Peace, legend.— All Blacks (@AllBlacks) July 10, 2019