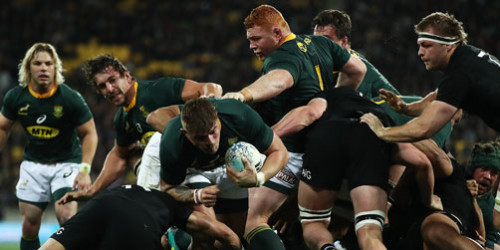 That's the view of former Springboks hooker James Dalton.
He told sarugbymag.co.za that Bok coach Rassie Erasmus would be able to call on a forward pack with skill, brains and brawn for the tournament.
"I've always maintained that a forward is defined not by his ball-in-hand capabilities, but by his off-the-ball impact. In a World Cup year, this is more important than ever, especially when it comes to investing in South African rugby's traditional strengths," he said.
The example of the successful sides of 1995 and 2007 was there to see and Erasmus needed to follow their lead with his forward selection.
"Both the World Cup-winning sides of 1995 and 2007, especially the forwards, were defined by their physicality and their conditioning, not by their tryline dives and fancy offloads. In '95 [coach] Kitch Kristie was clear with the players about what their roles would be, and they were picked for their ability to fulfil these roles rather than to be dazzling on attack.
"And it is this approach that the Springboks must have when picking their core pack of 2019."
Dalton said in 1998, coach Nick Mallett's side were not regarded as the most flamboyant of combinations but they were basically sound and had been able to match the then world record, held by the All Blacks, of 17 wins in a row.
"The starting back row against New Zealand in 1995 valued the mongrel of Ruben Kruger, although on paper he could have been seen as a smaller loose forward. Along with the physicality and work ethic of captain Francois Pienaar and No.8 Mark Andrews, though, it was a combination that worked.
"Similarly, in 2007, the starting loose-forward outfit was Schalk Burger, Juan Smith and Danie Roussouw (the match-winning tackler), not only some of South Africa's hardest forwards ever, but arguably the hardest working too.
"All these players mentioned were defined not by their flash, but by their work rate off the ball and on defence, the areas of the game where a match is won, almost always in pressured cases such as the World Cup," he said.
Dalton said the signs from the 2019 Investec Rugby Championship squad were that so long as the right combinations were picked the Springboks had a group capable of World Cup success.
He said Franco Mostert, Duane Vermeulen and Malcolm Marx were the sort of forwards who could dominate in the traditional South African way.
"In 1995 we entered the tournament as unknowns and finished it as world champions. This was due to a style of play that valued grit and guts, over glitz and gloating," Dalton said.